The Global Youth Peace Fest is an internationally recognized platform that brings together young people from different countries and backgrounds to promote peace, dialogue, and positive social change.
The methodology of the initiative revolves around inspirational interactive peace dialogues, creative workshops, cooperative games, action-based programs, volunteerism, cross-cultural relationship building, cultural festivities, and neighborhood walks. The Global Youth Peace Fest serves as a breeding ground for inspiring new ideas and action, promoting positive change for the betterment of all. The focus areas of intervention and programs at the annual Global Youth Peace Fest include promoting the spirit of One World (Vasudhev Kutumbakam), advocating for gender equality (SDG5), fostering youth leadership for transformative change, driving environmental advocacy and actions, and fostering the Afro-Asian Youth Forum.
Last date of registration: August 30, 2023.
---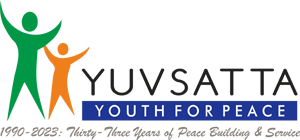 R. No. 12, Karuna Sadan, Sector 11, Chandigarh 160011, India.
Telephone: +91-172-4642100, +91-172-4345155 | E-mail: projectbridge@peacefestindia.in
Website: www.peacefestindia.in