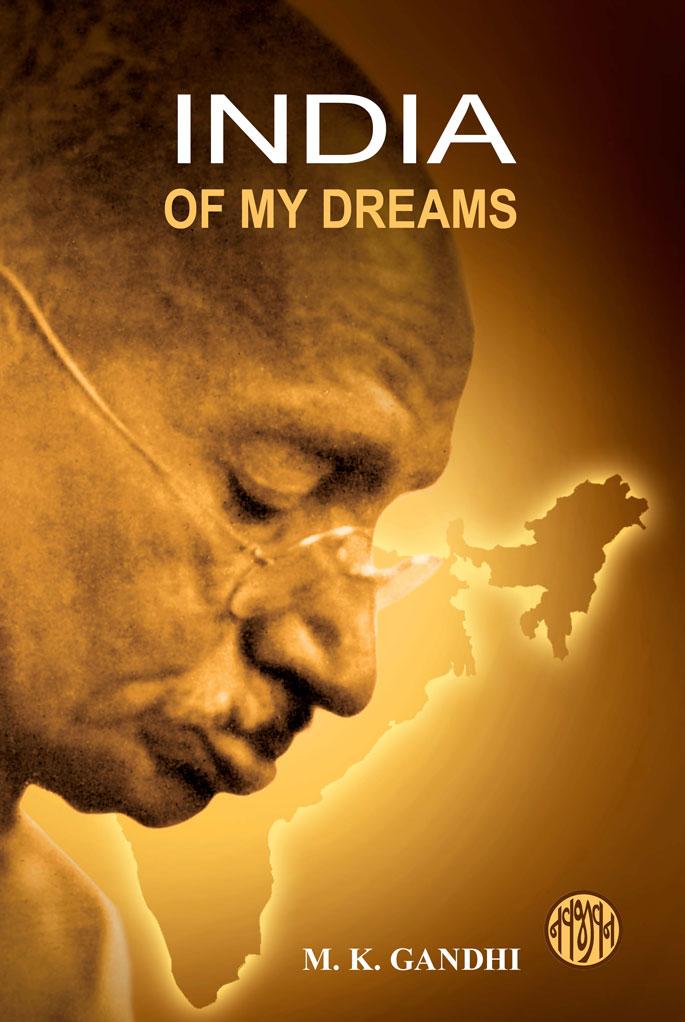 INDIA OF MY DREAMS : M. K. Gandhi, Compiled By R. K. Prabhu
Published by : Navajivan Publishing House, Ahmedabad, India
Pages : 344
Price : Rs. 35/-
ISBN-81-7229-002-0.
---
About the Book:
Profound wisdom comes through reflection on dreams. Every presentation has a meaning. In this work an attempt has been made, by assembling together passages from writings and speeches of Mahatma Gandhi, to give the reader an idea of the dream Gandhi had of a completely free and independent India of his conception in which she has control of her own domestic affairs as well as her relations with the rest of the world.
Dr. Rajendra Prasad in his forward to this book observes, "The matchless weapon of truth and non-violence which Gandhi used is needed by the world to cure it of many of its ills." The book, places before the reader not only the basic and fundamental principles of truth and nonviolence, but also indicates how we can help to fulfill them by establishing a polity and social life, through the instrumentality of a constitution and the dedication of the human material which this vast country has thrown upon us to work without any external fetters or internal inhibitions.
This book is the most significant of Mahatma Gandhi's writings, as it presents to the reader a concise information of Gandhi's views on all problems related to India and her people, and therefore may prove helpful not only to all students of Gandhian thought but also to constructive workers.
Gandhi said, "I would like to see India free and strong so that she may offer herself a willing and pure sacrifice for the betterment of the world. India's freedom must revolutionize the world's outlook upon peace and war. Her impotence affects the whole of mankind.
76 chapters of this book discuss vital issues of Gandhi's view on Swaraj, the Curse of Industrialization, Class War, Problem of Unemployment, Daridranarayan, Sarvodaya, Theory of Trusteeship, Non-violent Economy, Panchayat Raj, Village Industries, Gospel of Swadeshi, Cow Protection, A call to Youth, Evil wrought by Foreign Medium, New Education, Regeneration of Indian Woman, Communal Unity, Peace Brigades, India, Pakistan and Kashmir, India & world Peace, etc.
Gandhi had refused to subscribe to the theory that Muslims of India are a separate nation! "My whole soul rebels against the idea that Hinduism and Islam represent two antagonistic cultures and doctrines. For I believe with my soul that the God of the Quran is also the God of the Gita and that we are all, no matter by what name designated, children of the same God. I must rebel against the idea that millions of Indians who were Hindus the other day changed their nationality on adopting Islam as their religion."
Therefore, Gandhi, the father of Indian independence should feel little inclined to enthuse over independence that has been drawn on the partition of the country and at the cost of many lives lost.