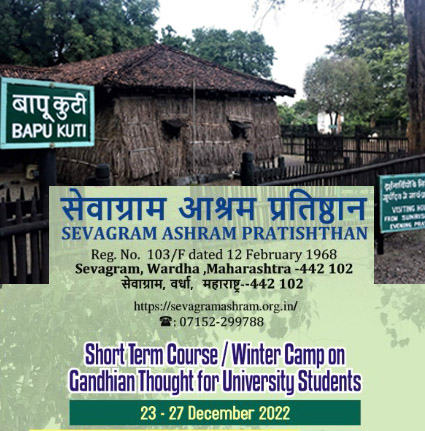 Sevagram Ashram Pratishthan is happy to announce the residential short term course on Gandhian Thought and action for university students from different parts of India. The objective of this short term course / camp is to acquaint the students with life and work of Mahatma Gandhi and its relevance in humanity's current predicament. Sri Jamnalal Bajaj Memorial Library Research Centre (JBMLRC Pratishthan is instrumental in coordinating this course.
This winter camp/course for University Students will be held at Sevagram from 23-27 December 2022 (both days inclusive). The camp will provide a unique opportunity for students to understand Gandhi's life, philosophy and methods of action in the premises of historic Sevagram Ashram which was founded by Mahatma Gandhi in 1936. The talks and discussions in the camp will be in English and Hindi.
Maximum 50 students will be allowed to participate in this camp. There is no provision for giving Railway/ Bus fare to the participants but boarding/lodging will be provided by the organisers. The admission of participants to the course will be closed in the first week of December.
A nominal registration fee of Rs. 300/- will have to be paid by the selected students at the time of their arrival in the camp.
Dr. Siby K. Joseph
Director, Sri Jamnalal Bajaj Memorial Library Research Centre
TRN Prabhu
President, Sevagram Ashram Pratishthan
---