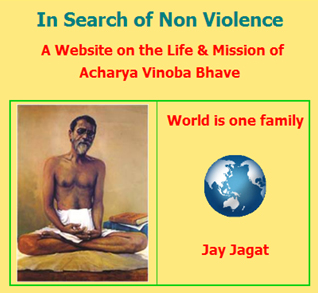 A comprehensive website
www.vinobabhave.org
On Life & Mission of Acharya Vinoba Bhave (A search for Nonviolence)
developed by Mumbai Sarvodaya Mandal
Main features:
Pictorial exhibition on life & works of Vinoba Bhave
More than hundreds of Books & Articles in various languages on & by Vinoba Bhave
Magazines: 'Maitri' & 'Samyayog Sadhana' published by Organisations of Sarvodaya.
Audio clips: Geeta Pravachane, Geetai, Vishnusahstranam, Video related to Vinoba.
In the 20th Century a frail man named Vinoba Narahar Bhave walked about Seventy thousand kilometers for fourteen years in India and received around forty-two lakh (4.2 millions) acres (Seventeen lakh i. e. seven millions hectares) of land in donation for landless farmers. It was a miracle of compassion and love in the history of mankind. Vinoba gave a new dictum to the world.
Science + Spirituality = Sarvoday (welfare of all)
Vinoba declared, "The days of Religion are over. World will be a family and all narrow boundaries of nationhood, caste, creed will dissolve and people will live in peace with each other". Vinoba's vision is that the days of Politics will be over. With love for one another, people will share all the God's resources just like air & water. The age of idol worship is over & the service to our fellow humans should be considered as service to God. Today's place of pilgrimage is the one that functions as per this maxim. People are today's God and their collective group is our sacred temple.