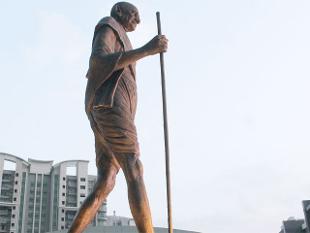 Academicians from around the world who converged at Johannesburg to mark the centenary of Mahatma Gandhi's return to India from South Africa have called for adhering to Gandhian principles for promoting interreligious dialogue.
A two-day international conference in commemoration of Mahatma Gandhi's return to India after initiating his passive resistance plans in South Africa, where seeds of his 'Satyagraha' were sown, was held over the weekend where various speakers from India, the US and Africa were in attendance.
They delivered papers under the theme 'Gandhi and his legacy: from lawyer to Mahatma' and how South Africa shaped his thought and action besides his impact on Africa.
The conference - organised jointly by the Centre for Indian Studies at the University of the Witwatersrand (Wits), and the Indian missions in Pretoria and Johannesburg - laid focus on various aspects of Gandhi's personality, including his attitude to racial discrimination. Dr.N.Radhakrishnan,Chairman of Indian Council of Gandhian Studies, Sri.Trideep Suhrud, Director of Sabarmati Ashram and Dr .Jacob Pulickan, Director of Gandhi Centre for Rural Development were represented India as Official Delegates and presented papers. Sri. Randhir Jaiswal, the Consul General at Johannesburg and Dr. Dilip M.Menon, Director, Centre for Indian Studies in Africa coordinated the two day South Africa Gandhi Conference.
Indian High Commissioner Ruchi Ghanashyam said it was appropriate that the conference was taking place in Johannesburg where the foundations of his 'Satyagraha' movement were laid.
"This historic event forms part of the year-long activities planned to mark the anniversary," Ghanashyam said.
Tridip Suhrud, director of the Sabarmati Ashram Preservation and Memorial Trust at the Gandhi Ashram in Ahmedabad, spoke on how Gandhi's writings in his newspaper 'Indian Opinion' in South Africa helped in creating a Satyagrahi consciousness.
Suhrud said the entire collection of the newspaper in which Gandhi wrote in Gujarati and English would soon be available online as a research tool.
N Radhakrishanan, chairman of Indian Council for Gandhian Studies in New Delhi, recalled how Gandhi was moved by human rights violations in the then colonial South Africa and how he influenced the global human rights narrative.
Ajay Skaria from the University of Minnesota, USA, spoke on the Gandhian understanding of 'Satya' (Truth) and 'Daya' (Kindness) while Vijaya Teelock of the University of Mauritius noted Gandhi's deep and veritable influence on Mauritius, which celebrates its Independence Day on March 12, the day Gandhi launched the famous Salt March in India in 1930.
After over 21 years stay in South Africa, Gandhi returned to India on January 9, 1915 with his wife Kasturba.
He had been in London the previous year to treat a severe bout of pleurisy, a lung inflammation. His doctors advised him to return to India to escape the English winter. And this time, India became his permanent home.