Serenity pervades the places associated with Mahatma Gandhi whether they be at Phoenix (Settlement) Ashram at Durban, South Africa, the Gandhi Ashram at Sabarmati, Ahmedabad, or the Rajghat Memorial, Delhi. Despite the hordes, the Mahatma seems to compel so much respect that even noisy tourists tend to unconsciously maintain a semblance of discipline.
Our guide at Sabarmati Ashram led us to the Gandhi Smarak Sangrahalay housed in the iconic building designed by Charles Correa. The museum inaugurated by Jawaharlal Nehru, has three spacious galleries - Gandhi in Ahmedabad, My Life Is My Message, and Painting Gallery. There is a library and archives here too. The museum houses thousands of items - rare personal effects, original letters and photocopies of his other letters, photos of Gandhi alone and with world leaders, and paintings of luminaries. Natural light and a cool breeze flow with ease through the corridors and rooms built to be as seamless as possible.
As we took a winding trail to Magan Niwas where Gandhi's nephew and ashram manager Maganlal Gandhi lived, the guide filled us in on some ashram history. After his return from South Africa and plunging full-time into the Freedom Movement, the Mahatma established his first ashram in 1915 in the Kochrab area of Ahmedabad - the two-storey building still stands. Later, in 1917, the ashram was shifted to its present location on the banks of the river Sabarmati. It came to be known as Satyagraha Ashram and Harijan Ashram. He lived here till 1930 when he set out to begin the epochal Salt Satyagraha or Dandi March from here.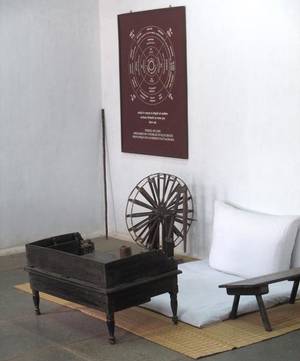 Gandhi's desk and charkha inside Hriday Kunj, one of several cottages. | Photo Credit: Aruna Chandaraju