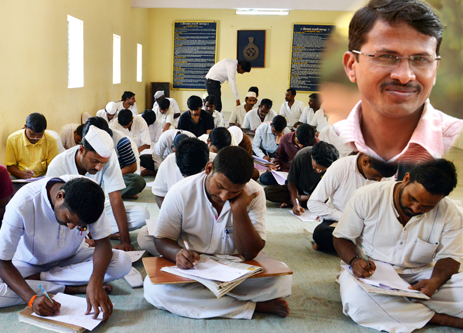 A hardened criminal a decade ago, Laxman Gole's life now revolves around reforming lives of hundreds of convicts serving jail terms across the state. And his tool is 'The Story of My Experiments with Truth', an autobiography of Mahatma Gandhi.
Convicted for a number of crimes in 2005, Gole has been preaching Gandhi's views among prisoners all over the state through Bombay Sarvodaya Mandal. He conducted a sort of examination for 452 inmates of Nashik, Aurangabad, Taloja and Nagpur Jail in Maharashtra on the occasion of Gandhi Jayanti.
"My life changed after I read Gandhiji's autobiography and took the exam myself. I decided to admit to my crimes in the district court in 2005. After getting released in 2008, I began working with Sarvodaya Mandal to rehabilitate and reform prisoners through counselling. I also run my own NGO, Saksham Peace Foundation," said Gole, who had studied till Class VII before getting engaged in criminal activities.
Gole was involved in a gang of nine members, three of whom have got reformed over the years and two died in police encounter. They were mostly involved in extortion and assaulting people for money and operated in various areas of Mumbai. Gole was convicted for 16 crimes and got released six years ago at the age of 29. Today, he lives with his wife and two children and has also confided in his activities of the past.
During his incarceration, Gole had taken the examination titled Gandhi Peace Exams conducted by the Sarvodaya Mandal - Gandhi Book Centre, Mumbai, the members of which visit prisons and distribute books among the inmates. From 2008, upto now he has taken examination of 1,250 prisoners across the state.
"We had taken the Jail authorities permission to conduct the exams. Of these 1,200 prisoners, 150 wrote to us about getting reformed. Many others may have been reformed, but we don't have any official confirmation," said Gole.
The Bombay Sarvodaya Mandal is a Gandhian charitable trust spreading the teachings of Gandhi. Along with the Gandhi Research Foundation, it has been organising the Gandhi Peace Examination since the past few years as part of reformation programmes for prisoners.