Artist Subodh Kerkar's association with Mahatma Gandhi began early in life. His father, an artist, was commissioned to make a painting of Gandhi for the Goa assembly. Before the painting was taken to the assembly, Kerkar's father called all the children in the neighbourhood, who prayed to portrait. "Would that happen today?," Kerkar asks.
The artist thinks Gandhi's philosophy is relevant in many contemporary situations. For instance, Kerkar considers littering to be a form of violence. The Goa-based artist, who is on a journey to reclaim the Mahatma through art, says Gandhi "would have taken it as an issue".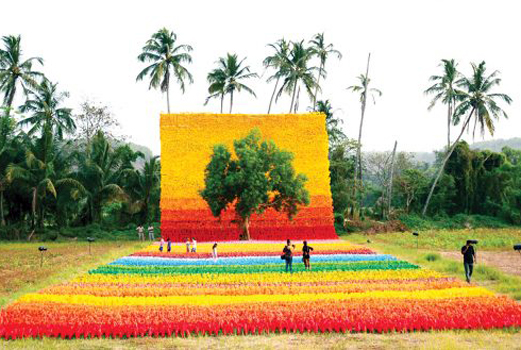 To mark the 100th anniversary of Gandhi's first experiment of
satyagraha
, which he began in Champaran on April 10, 1917, Kerkar created a '
Carpet of Joy
' – an artistic protest against littering in his home state.
Kerkar, along with student volunteers, used over 1,50,000 discarded plastic bottles to weave the spectacular installation. "Gandhi's teachings can be imbibed in subtle ways through art," he said, adding that he has even started taking out
prabhat pheris
in his effort to educate the masses about the menace of littering.
Kerkar is also fascinated by the different depictions of Gandhi in popular culture and keeps a digital archive of different portrayals – as a superhero, as an emperor, as divinity and so on. Kerkar has come up with a unique new project. In collaboration with a Ukrainian computer engineer, Kerkar has built a smartphone app that reads certain codes to reveal a 3D Gandhi on your phone. Different codes project different portrayals of Gandhi, designed by Kerkar. His plan to "put Gandhi's face on every currency in the world" – by turning notes into codes. It's already possible on British currency – point your phone camera at it while using the app, and an image of Gandhi will appear on your phone.