The PrintWeek India Awards Night is on Wednesday, 2 October 2013 at the Grand Hyatt, Santacruz in Mumbai.
On the Award night, an august line-up of big-name print VIPs will attend the evening. In the fifth edition of the Awards, besides applauding Performance Awards and Quality Awards winners, the room of 350 persons will be celebrating print on Gandhi Jayanti.
What many people in the print industry do not know is, besides being the father of the nation, Mahatma Gandhi can also be called the father of Indian printing.
Consider the facts: Mahatma Gandhi was an astute printer, publisher and journalist. Gandhi edited Indian Opinion, Young India, Navjivan and Harijan.
On 7 September 1919, Gandhi bought out the Navjivan weekly from Natwar printing press which is located near Khamasa Gate in Ahmedabad.
When word spread that Gandhiji was writing, the first issue received 2,500 subscriptions and orders started coming from Mumbai. The subscription increased to more than 15,000 copies. This was a record in those days as no other Gujarati weekly had such a large readership.
However, the government was threatened by the critical writings of Gandhi. Since no press owner was willing to risk its business by publishing reports against the government, Navjivan felt the need to acquire its own printing press.
And so, Gandhi purchased Navjivan for Rs 10,000.
Navjivan Press is a three-acre print and publishing centre in the heart of Ahmedabad city. The printing and plate-making department at Navjivan has a battery of indigenous HMT multicolour presses. But the point is, the press has made a priceless contribution to the Indian national movement.
Today, Navjivan's annual sales turnover is Rs 1 crore. These are mostly from highly subsidised in-house publications. Additional revenue is generated through the copyright of Gandhi's collected works which adds up to 1,000 books. This includes his autobiography, My Experiments With Truth published in 24 foreign languages, including Braille.
Navjivan has published the book in 13 languages and are launching the Sanskrit edition. Most of the printing is outsourced. The 135-strong workforce prints 20,000 copies daily.
The maximum sales came from the Malayalam edition, which sold 4.15 lakh copies and the English version which sold 10.37 lakh copies.
What is most important to note is: Gandhiji counted bad printing as an act of himsa (violence). He insisted on clear types, durable paper and neat simple jackets. He knew costly books in attractive jackets were out of the reach of readers of a poor country like India.
During his lifetime, the Navjivan Press printed books at a low price. His Gujarati autobiography was priced, 12 annas.
Gandhi had simple suggestions. He felt children's books should be printed in bold types, attractive paper and items should be illustrated with a sketch. He preferred thin booklets. They do not tire the children and are easy to handle.
Once the Navjivan Press decided to publish a Gujarati translation of Gokhale's writings and speeches. When the book was printed, Gandhi was requested to write the foreword. He found the translation poor and asked it to be destroyed. When he was told that Rs 700 had been spent, he said: "Do you think it's desirable to place this rubbish before the public?"
Today, Navjivan Press may not be the most profitable or advanced press in the country, but it represents something that is integral to Indian democracy: the liberty of the printing press.
Gandhi stopped printing his journals when a government order restricted him. His press was confiscated, his files were destroyed, his co-workers were jailed. He was never discouraged and remarked: "The press has a role to play. It has to become the people's Bible, Koran and Gita rolled in one. A newspaper predicts that riots are coming and all the sticks and knives have been sold out. It is the duty of the press to teach people to be brave, not to instill fear into them."
In today's times, this is the moral of the Navjivan Press story.
This is what we shall celebrate on 2 October 2013 at the
PrintWeek India Awards
.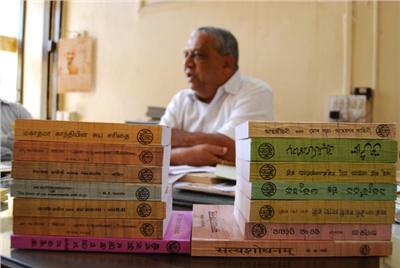 Late Jitendra Desai at Navjivan Press with copies of My Experiments with Truth (in many languages)