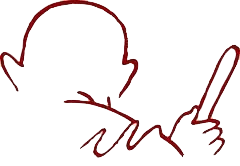 With a view to present Gandhian ideology in a modern way, Mahatma Gandhi-founded publication house Navjivan Trust will open an art gallery, cafeteria and a centre for sustainable development in Ahmedabad.
Gujarat Chief Minster Anandi Patel will inaugurate the art gallery, cafe and the sustainable development centre on January 29 at the Navjivan building, aimed to create a milieu, specially for the youth to connect with Gandhian ideology.
"People, especially the youths, are hesitant to get associated with Gandhian ideology. There is a need to create such an atmosphere by creating new activities where people can easily connect with his thoughts," Managing Trustee of the trust, Vivek Desai, told reporters.
He said the very thought became the genesis of setting up the cafe, art gallery, web portal and the sustainable development centre.
Visitors will get simple and organic food at the cafe on weekdays and on weekends a special 'Gandhi thali', Mr Desai said, adding all the food items will be served for free but visitors can make voluntary contribution.
In art gallery, the printing machine on which Gandhiji started publishing 'Navjivan magazine' and the type-writer of Bapu's personal secretary Mahadev Desai will be on the display, he said.
The art gallery will be given to professionals from various fields like poets, painters, artistes, doctors and lawyers for putting up their work so that a large number of people across all walks of life can reach out to the Gandhian ideology, he said.
City-based architect, who is associated with the work of launching Navjivan Centre for Sustainable Development, Samir Shukla said the web-portal, created on the lines of social media website like Facebook, will provide a platform for people those who want to do something good for society.
He said the web-portal will be named as 'Satya-Karma.in'.