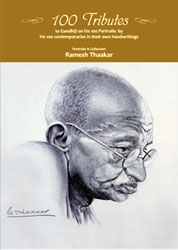 '100 Tributes', the first coffee table book on the 'Mahatma' by Navajivan Trust, aiming to revive Gandhian values amongst youngsters, will be launched here on June 15 in Ahmedabad.
The book, an unique collection of pencil portraits of Mahatma Gandhi rendered by Ramesh Thaakar, contains 100 tributes to Gandhiji on his portraits by his 100 contemporaries and associates in their handwritings.
The book will be formally released on June 15, a date in annals of history when United Nations General Assembly announced that it has adopted a resolution to declare October 2 as the International Day of Non-Violence.
It was on June 15, 2007 when the UN General Assembly had announced its decision.
"This book contains 100 portraits of Mahatma Gandhi by noted Gandhian Ramesh Thaakar alongwith handwritten tribute by Gandhiji's associate/contemporary on it," Navajivan Trust Managing Trustee Vivek Desai said.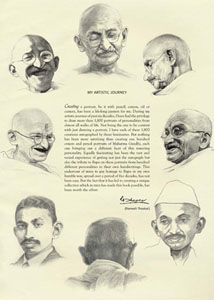 "Each portrait is accompanied by a short note, a poem or a short statement about father of the nation by a well known personality from various walks of life," he said.
"These portraits are arranged in the chronological order - Aug 30, 1959 to Nov 21, 1999- the date on which the tribute was given," Desai said.
Thaakar, who has drawn more than 1800 portraits of various personalities said, "nothing has been more satisfying than creating one hundred crayon and pencil portraits of Mahatma Gandhi, each one bringing out a different facet of this towering personality".
The book pages also provide details like the name of the tribute giver in English, Gujarati and Hindi language, short introduction of the personality, the date on which the tribute was given and the original language in which the tribute is written, he said.
Out of 100 messages, including ones from iconic personalities like former prime minister Indira Gandhi, Lal Bahadur Shastri, Khan Abdul Ghaffar Khan, amongst others, 45 are in English, 29 in Gujarati, 22 in Hindi and one each in Bengali, Marathi, Punjabi, Sindhi and Urdu, a trust official said.The book containing 248 pages is priced at Rs 4,500 and comes with an introductory offer.
Founded by Mahatma Gandhi, Navajivan Trust, has published over 800 titles in English, Gujarati and Hindi and other languages.