FROM PRISON TO PREACHING GANDHI
Real life story of a reformed prisoner, who is spreading Mahatma's messages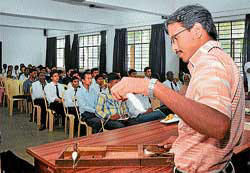 You may have watched Sanjay Dutt starrer 'Lage Raho Munnabhai' where the hero gives up anti-social activities after being inspired by 'Bapu' Mahatma Gandhi.
The story of Laxman Tukaram Gole is no different. A man convicted of various cases, he is now a reformed man involved in spreading the message of 'Father of the nation.'
A native of Maharashtra, he had come down to Mysore on Thursday to interact with the students of JSS Law College here.
Gole was just a 14-year-old boy when he accidentally entered the world of crime in 1991. He was a student of eighth standard then and had just escaped from boarding school.
A rowdy was teasing a woman fetching water near his house. The woman, who was being harassed, scolded them for being mute spectators.
Gole who was till then a boy like his friends, suddenly became a man enough to take on that rowdy. He went to a barber shop nearby, snatched a razor and pounced on the rowdy to severe one of the latter's ears. Thus began his tryst with underworld of Mumbai.
Recalls Gole, who spoke in Hindi, "Though I was a minor, police had prepared a document to prove that I was 18 and sent me to Arthur road jail. It was the same jail where Sanjay Dutt too was lodged after his name cropped up in Mumbai bomb blasts case in 1994."
It was here Gole came in contact with hard core criminals. Barring rape and murder, Gore was involved in cases like half-murder, extortion, life threat and also possession of weapon, as described by him with IPC sections.
However, he didn't forget to make use of the available opportunity to continue his education. It was there he completed his SSLC.
Quite a reader!
Having avid interest in reading books, he had read a few novels and short stories to kill time. It was this habit in him, which coerced him to read Mahatma Gandhiji's book - My experiments with truth.
He decided to confess to the crimes he had committed. Though dissuaded by his partners in cell, for the decision, Gole was firm. While seeking the book from Sarvoday Kendra, Gole had also expressed his desire to take the preachings of the Mahatma forward.
When he came out of jail on February 8, 2008, he wrote letters to all the nine he had victimised in one or the other way during his stint in underworld. "I asked them to give a chance to help them, as a form of repentance", said Gole. One such person was Ravi Sarpate.
A light supplier, he had to face the wrath of Gole when he refused to pay hafta one day. Ravi was also kind enough, and so also other victims.
He also has a plum job on hand earning Rs 25,000 salary per month as a master trainer at a plastic industry. He lives with his wife, mother and younger brother. The new entrant is his daughter, who was born on October 4, 2011. Gole said- he wanted his kid to be born in the same month, that Bapu was also born.
Motto
Now, the only motto Gole has is- reform as much prisoners as possible. He has already delivered a lecture in Hubli jail few months ago and will be interacting with prisoners at Chamarajanagar jail today and Man dya tomorrow. Lage Rao Gole Bhai.
Courtesy: http://www.deccanherald.com/content/199332/from-prison-preaching-gandhi.html