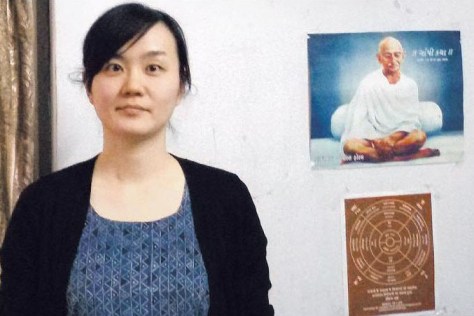 Kaori Kurihara, a young Japanese girl left her fiancé and family behind in Japan to come to Ahmedabad to study Gandhjii's original writings after she got interested in Gandhian philosophy after reading Gandhiji's Hind Swarajya.
While studying for her Bachelors at Keio University, Kaori Kurihara read Hind Swaraj and got curious about Mahatma Gandhi. Questions like who is this Gandhi? Where is this place? What did he mean by satyagraha? kept cropping up in her mind. How was she to find these answers? This was a translation, and she knew a lot is lost in translation, so she wanted to read the original in Gujarati. She decided she had to go to India and see for herself. She says, "I discovered that Gandhi Vidyapeeth in Ahmedabad conducts courses on Gandhi and if one wants to understand Gandhi, it was important to undertake physical work and study his thoughts". But would her parents allow her to go? What about her fiancé? But she decided to take the bull by its horn.
This Japanese girl proved the proverb that if there is a will, there is a way.
Kaori lived with her parents in the port city of Yukohama, two hours from Tokyo. As she had anticipated her parents would not agree with her idea. She firmly told her parents that she will go and is not going to ask for a penny from them. She worked for five years in the HR department of a company Work Data, saved enough money, and took off to Ahmedabad. The 30 year old Kurihara says, "My parents were compelled to agree after I had earned my own money. Being the only daughter, they were worried about me, but now they are very happy".
After coming to live in Gujarat to study Gandhiji's thoughts in Gujarati language, she became even more Gujarati than the Gujarati. Like one says being 'more loyal than the king'. She learnt the Gujarati language and now she can speak Gujarati fluently. Not only did she learn to speak and write Gujarati, she also learnt to cook Gujarati food. Kaori says, "Gandhiji's mother tongue was Gujarati, so he wrote in that language. If one wants to understand Gandhi it is important to read his original writings and that is why I learnt the language. At present she is pursuing a Ph.D. after completing her Masters and M.Phil.
Her doctoral thesis is on the subject 'Satyagraha Ashram '. She is exploring the kind of changes that took place in the life of those who stayed in the ashram, analyzing the effect of their fast on '
ekadas'
(the 11th day of the lunar calendar of both the waxing moon and waning moon cycle), the constructive programs carried out by them, and their satyagraha program. This is her final year.
Having learnt a lot from Narayan dada (Narayan Desai) about Gandhiji, Kaori says, "When I was in Vedchhi, Dada was taking classes in Gujarati on Gandhi and he used to explain to me. During that time Dada explained the importance and meaning of
ekadas
fasting which I recorded and later transcribed them. Using my recordings, Dada wrote a book 'Ekadas vow' in Gujarati.
Kaori adds, "My mother visited me here and she was very happy after seeing me. On the other hand my fiancé was afraid about my stay here when I told him I wanted to go to India and study about Gandhi. I therefore broke off from him."
Kaori says that after she completes her studies she plans to go back to Japan and try to spread knowledge and create awareness about Gandhi in her country. She says, "Like Gandhi I am first going to tour the whole of Japan, understand the condition of the people, what they think and where I think appropriate, I will tell them about Gandhi and spread his message all over the country."