Management students sold 2500 Gandhi Autobiographies to gain practical knowledge of marketing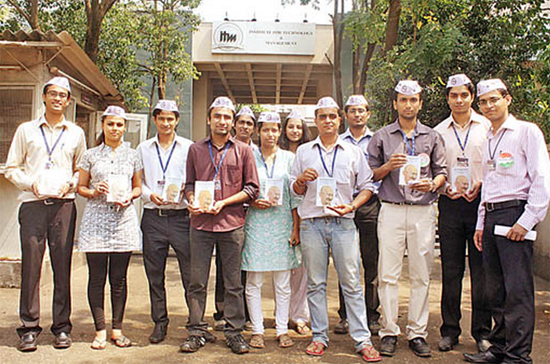 Students of ITM Business School, Kharghar, are making an attempt to sell over 2500 copies of the autobiography of the father of the nation Mahatma Gandhi "My Experiments with Truth."
The activity that is termed as the grand action learning programme by the institute is called 'Mandi.' It is intended to impart practical knowledge of marketing to the students.
The Mandi concept was brought into practice by NITIE (National Institute of Industrial Engineering, Mumbai), under the name of 'Shanti Eva Jayate,' through which students of the institute sold hundreds of copies of the autobiography.
"This is an innovative pedagogy of facing the real-life challenges, apart from theoretical knowledge given in the classroom. The objective of Mandi is to provide MBA students an understanding of the market, business ethics and values. 'Mandi' is a brainchild of Dr. Prasad and Dr Dhume from NITIE," professor Dr Ankhush Sharma from ITM said.
In its contemporary form, Mandi and its efforts to promote Gandhian theme is being executed through renowned movie 'Munna Bhai MBBS.' The movie has played a major role in prompting in youth and families the Gandhian principles."
"The two day event, which started on October 14, has students taking the streets to campaign for the autobiography," the professor said.
On day 1, students were given a brief insight on the ways to approach a probable customer, and do's and don'ts of making the campaign successful. They were also told the probable hurdles that students might face, and ways to deal with.
Courtesy: DNA, dt. 16.10.2011