'IBN7 Zindagi Live National Award' for Laxman Gole
who regrets life of Crime to become Gandhian Practitioner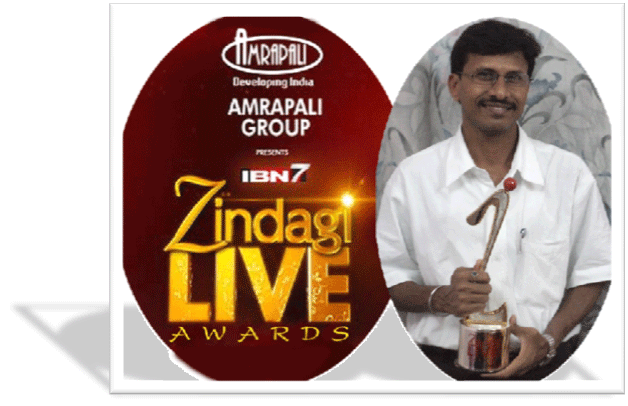 Laxman Tukaram Gole, a former criminal, convicted in as many as 19 cases, has been a 'Gandhian Practitioner' for the last three years. As a recognition to his extraordinary story and work, post his criminal life, on 10th November 2011, he was awarded with the 'Zindagi Live National Award' by IBN7 at a special function held in New Delhi. The award carries a One Lakh Rupees and a memento.
Gole's transformation from a goon to a gandhian was made possible due to the pioneering work of Mumbai Sarvodaya Mandal, which has been spreading Gandhian thoughts in jails, through Gandhian literature. As a part of this exercise, Gandhiji's Autobiography 'My Experiments with Truth' had also been distributed to jail inmates. One such copy fell into the hands of Gole, whose life took a turn for the better, after he read it.
Gandhiji's sober life of truth and non-violence set him thinking about his own life. He saw a similarity in his life and that of Gandhiji. That Gandhiji had the courage to confess his mistakes and used to take self-punishments in his life, left an indelible mark on Gole. He felt that despite being an ordinary man like himself, Gandhiji could ignite the fire and passion for freedom amongs the masses and assured the world that every conflict can be solved non-violently, only by practicing and propagating the principles of truth, non-violence and peace.
Gandhiji believed in change of heart. "Hate the sin, not the sinner" touched Gole's heart and became his motto of life. He liked Gandhiji's statement, "Be the change, you wish to see in others" and decided to be the change. He pleaded guilty in all the charges framed against him in the court.
After his release from jail, Gole joined the Mumbai Sarvodaya Mandal as a volunteer to spread the message of Mahatma Gandhi in jails. A follower of Gandhi, Mr Yogesh Vaghani of 'Vedzen Consulants Pvt Ltd', employed the 'seventh standard pass Gole' in his company, where currently he is a consultant. Gole also gives inspirational talks and lectures to students of law and MBA.
Laxman, who is now happily married, believes that anybody around the world who reads My Experiments with Truth, and assimilates it, can change his or her life for the better. Society will not only accept but also help the individual to rehabilitate. He points out that Nelson Mandela, Martin Luther King and Major Paul inmate of Pune jail and Santosh Bhintade of Paithan jail are some of the examples of those influenced by Gandhiji's teachings.
Laxman Gole has decided to donate the prize amount of Rupees One Lakh to Mumbai Sarvodaya Mandal for propagation of Gandhian Thoughts amongst the inmates of jails and for their rehabilitation.