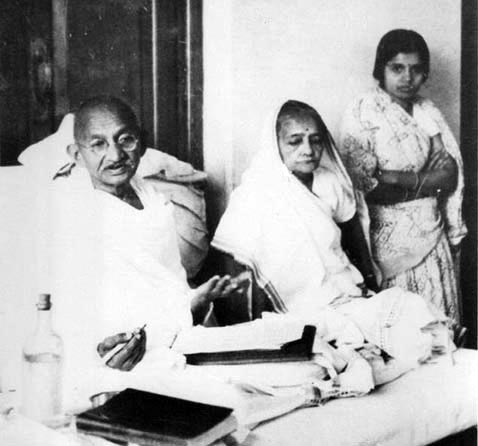 When the country was struggling for its independence, female liberation was a far-fedged thought. Yet the courage imbued in Chandan Parekh Kalelkar by Mahatma Gandhi's resolve made her one of the first women from Kathiawad in the 1930s to earn a Master's degree abroad. (She got a Master's degree in sociology and psychology from Boston University.)
Chandan Kalelkar's daughter, Shailaja Parikh, says that on March 3, 1939, her mother experienced at first hand Bapu's commitment to his principles in the face of violence at one of his fasts in Rajkot. This experience transformed her mother into a woman of great courage, says Shailaja.
On March 3, 1939, Chandan Kalelkar, a Gandhian herself, was with Bapu when he was on fast-unto-death at Rajkot. According to Shailaja, some landlords had sent armed hirelings to disrupt Gandhiji's prayer meeting.
"My mother elbowed her way to Bapu through the melee. The crowd had split into small groups of people exchanging blows with each other. She was scared as she stood by Bapu's side because she had never faced such violence before. She then noticed that Bapu had closed his eyes and was praying. My mother could hear him saying 'Ramnam' with great devotion. Gandhiji calmly continued praying till the trouble-makers felt humbled and themselves joined in the prayers," Shailaja said.
It was from Bapu that Chandan Kalelkar learned to stand by her principles come what may.
"When my mother, Chandan, got a scholarship to study sociology in the US, her aunts had many reservations about her going to a foreign country. No girl from the family had ever gone abroad for higher education. They were also worried that Chandanben may go astray and then no one would marry even the other girls of the family. But my mother was so inspired by Gandhiji's ideas that she was determined to go abroad," said Shailaja.
Shailaja's parents, Satish Kalelkar and Chandan Parekh, had worked closely with Bapu. Her grandfather, the famous author, Padma Bhushan Acharya Kaka Saheb Kalelkar, had lived with Gandhiji at Sabarmati Ashram.