The President of India dedicates World's biggest International Gandhi Research Centre to humanity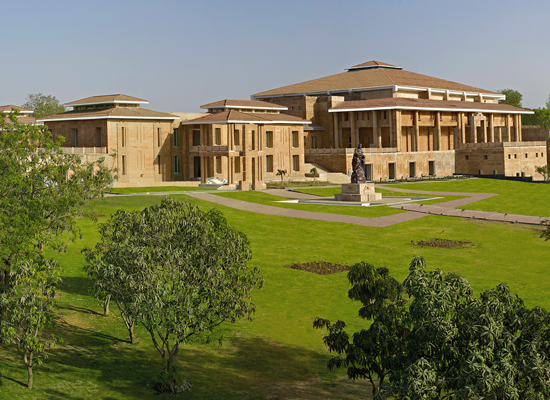 Gandhi Research Foundation, Jalgaon, Maharashtra
President Pratibha Patil inaugurated the Gandhi Research Foundation, Jalgaon, on 25th March, 2012. Speaking at a gathering after inaugurating the Foundation, President Patil said she was happy that memorabilia and writings of the father of the nation would be housed in this institute in her hometown.
Gandhi Research Foundation (GRF) is the promoter of 'Gandhi Teerth' which is sponsored by Jain Irrigation and Bhavarlal Kantabai Foundation. Padma Bhushan Justice Chandrashekhar Dharmadhikari, Retd. Justice of the High Court of Bombay, who was the Mahatma's protege at the Wardha Ashram, is the Chairman. The proponent of the Jaipur Foot, Padma Bhushan Shri D. R. Mehta, senior IAS officer and former Deputy Governor of RBI is a member on the Board.

"Gandhi Teerth" is a magnificent structure of over 65,000 sq. ft. at Jain Hills, Jalgaon, Maharashtra. The compound encircles sprawling lawns dotted with mango trees which act as sit outs. The structure is nestled in 300 acres of greenery. Residential facilities for researchers are provided separately. The edifice is built under green norms to endure many centuries. It has already won the GRIHA-ADARSH Award for low energy material application. It comprises the following:
Khoj Gandhiji Ki : Dissemination of Gandhiji's life and teachings through a state-of-the-art interactive, multimedia, audio visual museum along with conventional formats like paintings, murals and panels.
GIRI : (Gandhi International Research Institute) - the academic arm of GRF which will award diplomas, degrees and facilitate research in Gandhian studies.
GRF Think Tank : A consortium of scholars who will deliberate on contemporary issues. It can independently study and opine on public policy matters such as peace, ahimsa etc.
Gandhiana : Collection, classification, indexing and synopsizing of publications by and on Gandhiji.
Gandhi Archives : Preservation of archival publications relating to Gandhiji and Freedom Struggle.
Gandhinomics : Rural Development/Outreach Programmes on Gandhian Lines.
GRF has so far collected from authentic sources 7350 books, 4090 periodicals viz. Harijan, Navjeevan and Young India etc, 4019 photographs, 75 films, 148 audio of Gandhiji's speeches, philately items from 114 countries etc. We have over 1,75,000 pages of scanned documents relating to/from the collection of Gandhiji, Vinoba Bhave, Mahadev Desai and historian Dharampal.
---