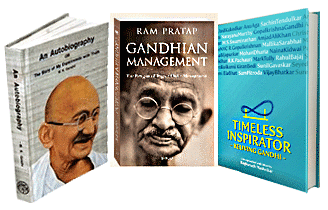 Indian population – Demographic dividend or disaster? Inclusion and equal opportunity will ensure dividends? Who can teach us this lesson better than Gandhi - The Father of the Nation?
Students of Chetana Management Institutes, wearing T-shirts with Gandhi's messages 'Be the change you wish to see in the world' sold about 8,500 copies of Gandhi's Autobiography 'My Experiments With Truth' in English, Hindi, Marathi and Gujarati and about 1,600 copies of other Gandhi books, 'Timeless Inspirator–Reliving Gandhi', Edited by internationally acclaimed scientist, Raghunath Mashelkar and 'Gandhian Management' by Ram Pratap, total 10,000 Gandhi books worth Rs. 5.25 lakhs, within a span of one month i.e. 4th March to 7th April 2012.
As part of JAGRUTI campaign, Chetana MBA students approached people in streets, school children, employees of public and private companies and shared the importance of Gandhian literature with a pitch to offer to sell Gandhian literature. Displays were also organised for the benefit of school children at Mahatma Gandhi Education Society, Bandra - (East), Income tax offices, Shipping Corporation of India, Canara Bank, Times of India, Axis Bank, RNA Corporation etc.
Based on the concept of Gandhian education system viz., Nai Taleem, project 'Jagruti' was designed to help the MBA students to learn about Gandhian values and get some hands-on experience of sales, operations, finance and systems management. The students have handled all the responsibilities, from designing the programme, sponsorship, operations, marketing, permissions and sales, themselves.
Jagruti project is taken up with the support and guidance of Bombay Sarvodaya Mandal. Prof Aparna Rao (Mob. 9820843210) was in-charge of this campaign. Dr T. Prasad, a professor from NITIE Mumbai, is the mentor for this campaign for students and faculty members of Chetana Institutes in conducting this campaign.
Valedictory programme is organized on Tuesday, 10th April, 2012, at Chetana Institute of Management and Research, CIMR Auditorium, Survey No 341, Govt. Colony, Bandra East, Mumbai, from 11.00 a.m. to 2.00 p.m. Hon'ble Retd. Justice Shri Chandrashekhar Dharmadhikari will preside over the function.
---
Students selling Gandhi Books
See more photographs of 'Jagruti' campaign @ http://www.facebook.com/groups/291696214230474/photos/