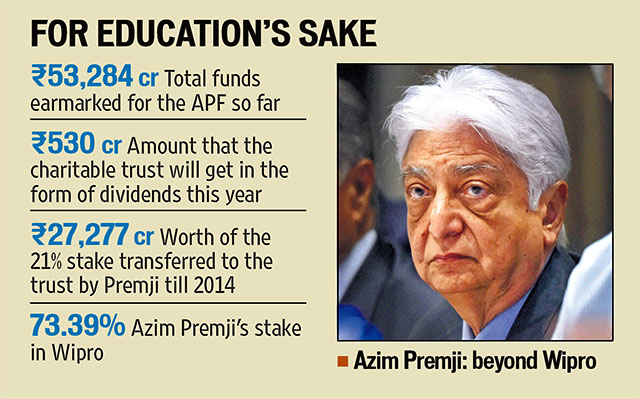 Wipro Ltd's chairman Azim Premji, who is India's top giver, has given away an additional 18% of his stake in India's third largest IT services company to his foundation.
The billionaire founder's latest share transfer will bring an additional Rs 530 crore into the Azim Premji Foundation's corpus this year by way of dividends and help expand its reach.
"Over these years, I have irrevocably transferred a significant part of the shareholding in Wipro, amounting to 39% of the shares of Wipro, to a trust," said Premji in a letter to the shareholders.
Premji had previously given away 21% of his stake, worth $4.3 billion, to the eponymous foundation. He has allocated an additional 18%, taking his total contribution so far to 39%, according to the company's 2015 annual report. The foundation will be entitled to earnings from the dividends from these shares and proceeds from share sale, if and when it happens.
Anurag Behar, chief executive officer of Azim Premji Foundation, said the entire ownership of the stake rests with the trust, but the voting rights representing these shares stay with Premji, who owns 73.39% stake in Wipro.
Behar said the foundation will receive 18% of all dividend paid as funds. In 2014-15, the company paid a total dividend of Rs 2,962.2 crore, according to BSE data.
Premji who set up the Azim Premji Foundation in 2001 to focus on philanthropy and improve the country's school system, signed a giving pledge in 2013 along with philanthropists such as Warren Buffett and Bill and Melinda Gates among others.
The 69-year-old has been gradually transferring his shares to the foundation over the last five years—in 2010, he transferred 9% of his shares worth $2 billion, and followed it up with a 12% share transfer in 2013 worth $2.3 billion. The foundation works in eight states which together have more than 350,000 schools.