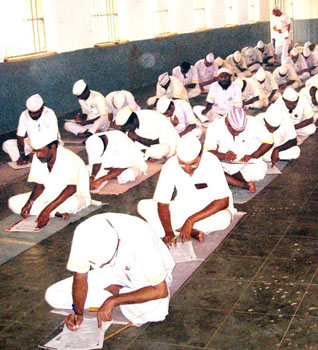 Around 450 jail inmates of Maharashtra and 90 surrendered Maoists in Chhattisgarh will join around 1.70 lakh students to write the annual Gandhi Peace Exam to mark the 147th birth anniversary of Mahatma Gandhi.
The exams shall be conducted across the state by Mumbai Sarvodaya Mandal (MSM) to give the jail inmates and Maoists an opportunity to feel a sense of remorse by inculcating moral values, peace, truth and non-violence propounded by Mahatma Gandhi.
"Even 68 years after his assassination in 1948, Mahatma Gandhi's teachings and values on non-violence are an inspiration to the ordinary people and others, who went on to become eminent personalities in different fields or world leaders," said Mumbai Sarvodaya Mandal chief T. R. K. Somaiya.
As declared by the United Nations, October 2 shall be celebrated as International Non-Violence Day the world over, he said.
Explaining Mumbai Sarvodaya Mandal's concept behind the examinations, Somaiya said Mahatma Gandhi believed in 'change of heart' and while inculcating his ideology among the youth, it is essential to help bring about this change of heart.
"Those who commit crimes in a moment of fury are neglected by society and they are forced to enter the world of crime. We must help make them, even if they are jail inmates, responsible citizens," Somaiya said.
This year, during the upcoming Gandhi Jayanti Week, around 450 prisoners from jails in Mumbai, Nagpur, Pune, Akola, Chandrapur and Bhandara, and 90 Maoists, who surrendered in neighbouring Chhattisgarh state shall write the examinations.They will join around 1,70,000 school and college students in the state for the exams.
Another 1,200 jail inmates shall appear for the Gandhi Peace Examination during the year.
Till date, Somaiya said around 1,150 prisoners in Mumbai, Thane, Raigad, Jalna, Aurangabad, Nashik and Pune jails have appeared for the exams in the past few years.