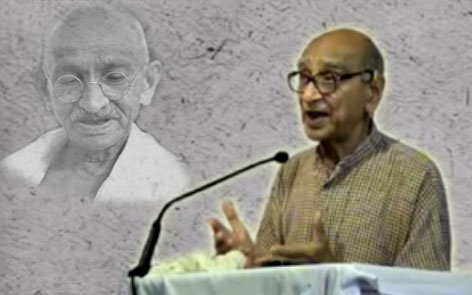 Narayan Desai, 90, one of the tallest Gandhians in the country and son of Mahadev Desai, Mahatma Gandhi's personal secretary, died at his house in Vedchi village in Tapi district on Sunday, March 15, 2015 after a brief illness.
Born on December 24, 1924, in Valsad, Narayanbhai was brought up in Ahmedabad's Sabarmati Ashram and Sevagram near Wardha. Gandhiji fondly called him 'Bablo' and he was the last of many Gandhians alive who had lived with Bapu and had experienced his personal care.
The 'Gandhi kathakar' died of cerebrovascular and respiratory failure between 1.30am and 4.30am. He died at his residence which he called the Sampurna Kranti Vidyalaya.
It was in 2004 that Narayanbhai began the Gandhi katha?a narrative of Gandhi's life?from the Gujarat Vidyapith campus. In his life he conducted 118 Gandhi kathas in different places of the world.
His daughter, Dr Sanghamitra Desai-Gadekar, who was tending to him with younger brother Aflatoon, said that she saw him last at 1.30am. However, it was around 4am that he breathed his last.
His mortal remains were consigned to flames on the banks of Valmiki river with a full guard of honour. However, guns didn't fire to salute at the request of family members, said district collector BC Patani, who was present on behalf of the state. A large number of locals, Gandhians, social workers and family members paid their last respects.
Desai had recently written a voluminous biography of Mahatma Gandhi called 'Maru Jeevan Ej Mari Vani'. The book was translated into English in four volumes, 'My Life is My Message' by Tridip Suhrud. Desai's biography on Gandhi is a magnum opus and has come from a person who lived with Gandhiji. His equally important work was the biography of his father called 'Agni Kund Ma Ugelu Gulab'.