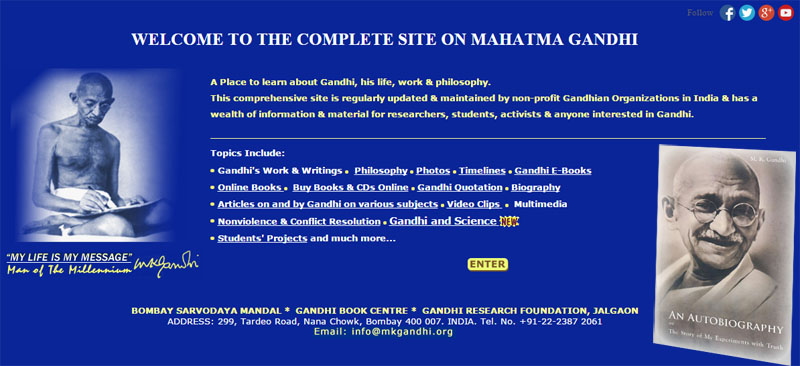 Gandhi website received over 7,000 hits per day and Gandhi's Autobiography sells like hot cakes
Former Supreme Court judge Markandey Katju's blog post, which condemns Mahatma Gandhi as "an agent of the British who did great harm to India" has shocked citizens. His belief is defied by the fact that thousands research Bapu's life story to this day.
Katju recently dismissed Satyagraha as "reactionary nonsense" and said Bapu helped the British by eulogizing Hinduism and alienating Muslims.
Director Feroz Abbas Khan, who made Gandhi My Father, calls such thinking "perverse". He says, "The very fact that Gandhi was assassinated by extreme right wing Hindu forces proves his secular credentials. Were it not for him, Dalits and minorities would never have won justice as equal citizens. He lived with the underprivileged in Dalit colonies. When was the last time Katju did that? Gandhi held up Lord Ram not for his religious status but as `maryada purshottam', the ideal man."
At Grant Road, the Bombay Sarvodaya Mandal, which sells books by and about the Mahatma, finds that people worldwide nurture an abiding faith in him. Each year on his death anniversary, Sarvodaya offers Gandhi literature at half the cover price. Last year, books worth more than Rs 5.5 lakh sold within six days.
Sarvodaya's director, TRK Somaiya (75), a Gandhian, says, "
www.mkgandhi.org
receives 7,000 hits a day and up to 1 lakh on Gandhi Jayanti. Bapu's autobiography sells like hotcakes despite publisher Navajivan having raised prices by 100-200%, and even though these titles are available for free on our web site."
Writer-activist Jatin Desai visits Sarvodaya frequently . "I was there when Katju's inflammatory statement arrived. I have worked with Katju to seek the release of the elderly Pakistani prisoner Khaleel Chishti, so I believed he was a sensible person. But he has not understood Gandhi or the freedom movement. Bapu did not merely hold an antiimperialist agenda, he led a movement for social reform.He mobilised women for the first time, he swept latrines himself as he spoke of cleanliness. He was a proud Hindu, yet he devised the `sarva dharma prarthana'. The whole world, from Nelson Mandela to Malala Yousafzai, acknowledges his inspiration."
"Bapu was a man, not a demigod. He had his faults but his greatness lay in sheer honesty. He admits in his autobiography how his personal beliefs may have troubled his wife and endangered his children. That is why his journey from Gandhi to Mahatma is a life lesson for me," says media professional Shweta Karnik (27).