How Gandhi helped an ex-convict turn his life around
Milan Thakkar was a self-confessed Gandhi hater until he 'discovered' the Mahatma while in jail.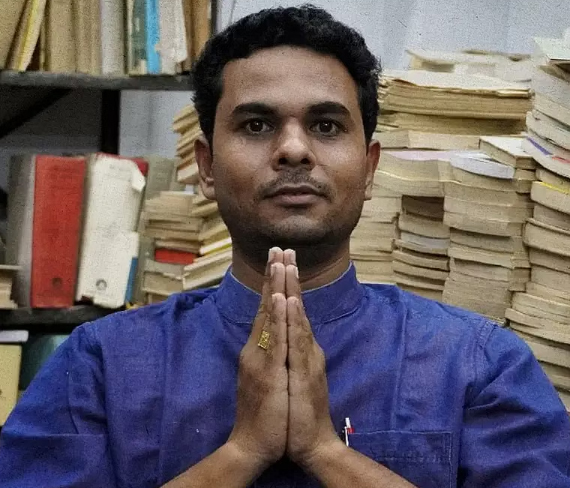 Thakkar, 32, a former convict from Ahmedabad, freely admits he "used to hate Bapu", he would "abuse" Gandhi's photo if he ever came across it. He drank from the well of WhatsApp forwards, growing heated at the thought that Gandhi "ensured Pakistan got Rs 55 crore", and "didn't allow Sardar Patel to become prime minister".
"For all those reasons," he said, "I didn't like him."
Yet it was Gandhi's ideas and principles that eventually changed the course of Thakkar's life, taking him to the high court to appeal against his prison sentence and now settling him in a new role as a proofreader of texts.
This is his story.
---
'Gandhi changed me, made me tell the truth'
Since he was a child, Thakkar's family struggled with financial issues. He quit school in Class 10 and took up odd jobs to make ends meet. Eventually, his ambition burned bright but he still didn't have money to start a business. "I wanted to be rich," he said, and his shortcut was to enter the world of fraud – to print fake currency notes.
It was 2014. Like a true child of his times, Thakkar learned how to print fake notes on Google and YouTube. "I printed 41 Rs 100 notes," he said. "I used just four and the police caught me."
Thakkar went to jail on June 21, 2014. "After demonetisation, the sessions court sentenced me on December 16, 2016 to 10 years," he said. "I stood rooted to the spot. I had wanted to pull my parents out of squalor but instead, I trapped them even further."
In jail, Thakkar said he found work with the prison's law department which helped him learn a little about the legal process. A fellow inmate suggested he sign up to provide audio recordings of Gujarati books – a task undertaken by the prison to aid disabled learners.
"My companion in jail said, 'You have a good voice, you should go there,'" Thakkar recalled. "He told me it pays Rs 60 per hour."
It was during one of these recording sessions that Thakkar "met Mahatma Gandhi for the first time".
"I had to record Mahatma Gandhi Na Vicharo, the Gujarati translation of The Mind of Mahatma Gandhi by RK Prabhu and UR Rao," he said. "I was doing the recording for money. But there was something in the book that changed me. While reading it, I realised how important it is to speak the truth. You should have a stand on every matter, you can't be diplomatic."
At that point, Thakkar had served four and a half years of his 10-year sentence. "Gandhi had changed me. I decided to tell the truth," he said. "Until now, I was filing my legal battle by claiming I was innocent. But I filed an affidavit in the high court, accepting that I intentionally manufactured fake currency notes. I said I wanted to become rich as my family's financial state isn't good. I asked the high court to reduce my sentence."
He added, "I knew that even if the high court didn't reduce my sentence, it wouldn't increase it either."
Luck was in his favour. At the Gujarat High Court, Justice PP Bhatt reduced Thakkar's sentence to five years. "I realised the power of truth," Thakkar said jubilantly. "I came out of jail after a few months."
Shortly before he became a free man, Thakkar attended a journalism workshop in prison held by Gujarati journalist Prashant Dayal. Dayal told Newslaundry he held these workshops on behalf of the Navjeevan Trust which, coincidentally, was set up by Gandhi in 1919.
"We don't ask prisoners about their past or crimes," Dayal said. "We help them focus on the present and future."
"I didn't know much about journalism," Thakkar confessed. "I was not looking at it as a career so I didn't want to go for the workshop. But my fellow inmate Bhanwar Lal, who had been in jail for 13-14 years, secretly registered my name."
Thakkar was annoyed but attended nevertheless. Dayal remembered him as being "an eager young man" who told him about how he'd discovered Gandhi.
This wasn't the last time Dayal would meet Thakkar, though. After the latter's release, he struggled to find a job. He eventually met Dayal and asked for help, and Dayal got him hired as a proofreader with Navjeevan Trust. Thakkar also later began contributing to Dayal's newspaper Navjeevan News.
Today, Thakkar makes sure to visit the jail that once housed him three times a week to teach inmates. None of this would be possible, he said, if he hadn't found Gandhi.
Courtesy: Newslaundry.com, dt. 21.12.2022
---
The article originally written by Basant Kumar, translated into English by Shardool Katyayan