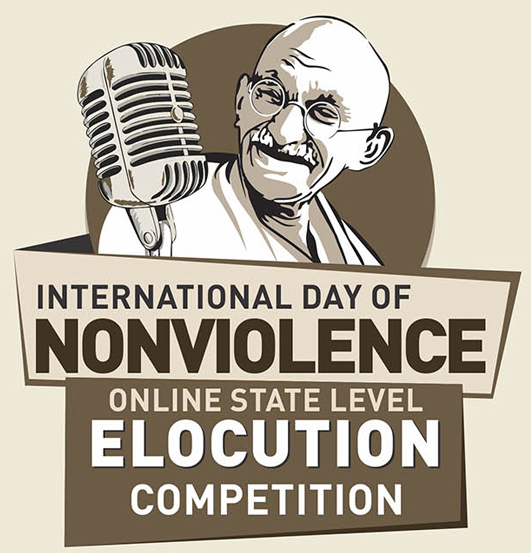 Online State Level Elocution Competition 2023
to celebrate International Day of Nonviolence
organised by Gandhi Research Foundation
Gandhi Research Foundation has organized an online state level Elocution competition on the occasion of International Day of Non-Violence on 2nd October 2023.
Be a part of this contest by sending your registration soon.
Group
Standard
Language
Theme
Honors**
Group I
Class 6 to 8
मराठी
पर्यावरण आणि विकास
First - ₹ 5,000/-
हिन्दी
पर्यावरण और विकास
Second - ₹ 3,000/-
English
Environment and Development
Third - ₹ 2,000/-
Group II
Class 9 to 12
मराठी
'जाती' अंत हाच पर्याय
First - ₹ 7,000/-
हिन्दी
'जातीप्रथा' समाप्ती यही विकल्प है |
Second - ₹ 5,000/-
English
End of 'Caste System' is the Only option
Third - ₹ 3,000/-
Group III
First Year Graduation to Post Graduate
मराठी
राष्ट्रपुरुषांच्या अनादराने काय साध्य होईल?
First - ₹ 10,000/-
हिन्दी
राष्ट्रपुरुषों का अपमान करके क्या हासिल होगा?
Second - ₹ 7,000/-
English
What is achieved by disrespecting national leaders?
Third - ₹ 5,000/-
Last date for registration and submission: 15th September 2023 (by 11:55 pm)
The top three winners will be chosen for the award in each group, not in each language.
For more details and terms & conditions, please download following brochures, available in English, Hindi and Marathi.
---
Gandhi Research Foundation
Gandhi Teerth, Jain Hills, Jalgaon, Maharashtra 425 001, India.
Tel. +91-257-2264802, 9404955220, 9823362330 | Email: info@gandhifoundation.net, skills@gandhifoundation.net | Website: www.gandhifoundation.net