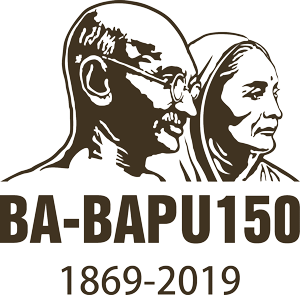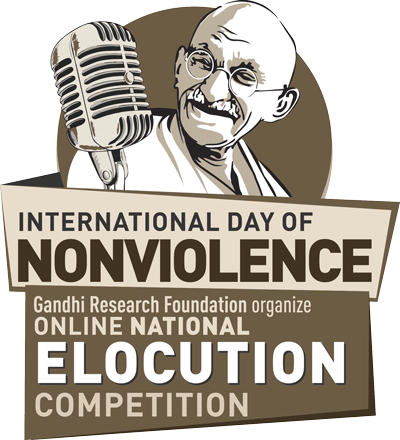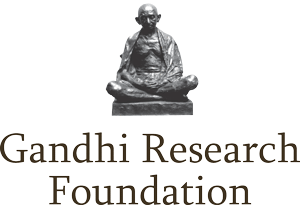 Online National Elocution Competition 2020
to celebrate International Day of Nonviolence
organised by Gandhi Research Foundation
As part of Mahatma Gandhi's 150th birth anniversary celebrations, the Gandhi Research Foundation (GRF) is organizing an online elocution competition. Interested candidates are invited to send in their recorded video speech for the contest, which will be reviewed by a Jury panel and then uploaded for viewers' comments. Winners will be chosen based on the Jury's score and the number of 'likes' and 'comments' received for each video.
Group
Standard
Language
Theme
Honors**
Group I
Class 5 to 8
मराठी
गांधी - माझे हिरो
First - ₹ 5,000/-
हिन्दी
गाँधी - मेरे हिरो
Second - ₹ 3,000/-
English
Gandhi - My hero
Third - ₹ 2,000/-
Group II
Class 9 to 12
मराठी
आज गांधी असते तर त्यांनी काय केले असते?
First - ₹ 7,000/-
हिन्दी
आज अगर गाँधी होते तो क्या करते?
Second - ₹ 5,000/-
English
What would Gandhi do today?
Third - ₹ 3,000/-
Group III
First Year Graduation to Post Graduation
मराठी
अहिंसा - जीवनाचा नियम
First - ₹ 10,000/-
हिन्दी
अहिंसा - जीवन का नियम
Second - ₹ 7,000/-
English
Ahimsa - Law of life
Third - ₹ 5,000/-
The top three winners will be chosen for the award in each group, not in each language.
For more details and terms & conditions, please download following brochures, available in English, Hindi and Marathi.
---
Gandhi Research Foundation
Gandhi Teerth, Jain Hills, Jalgaon, Maharashtra 425 001, India.
Tel. +91-257-2264802, 9404955220, 9823362330 | Email: info@gandhifoundation.net, skills@gandhifoundation.net | Website: www.gandhifoundation.net