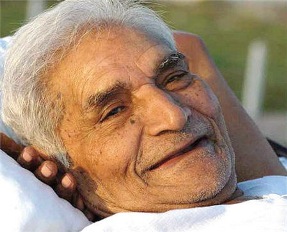 Baba Amte was born on 26th December 1914, in a wealthy Brahmin family in a sleepy village of Goraja, near Warora town in Maharashtra. He came under the influence of Mahatma Gandhi and Vinoba Bhave at an early age. Despite being born in a Brahmin family, he rejected the traditional orthodoxy and progressively involved himself in the 'constructive program' of Mahatma Gandhi which included promotion of Khadi, spartan and frugal lifestyle and uplift of down trodden. On the eve of India's independence, Baba Amte launched his first experiment in social justice and community living and called it Shram Ashram. The life style in these seven acres of land was fashioned on the lines of Gandhiji's ashram. Sweepers, cobblers, black smiths, bamboo weavers, daily wage earners and the middle class employees, all lived together in a commune and lived on bread labour. Baba Amte personally went to the village market and sat with the other village vendors to sell the products grown in their farm. He would not quote price of his products and he asked the purchasers to pay, what they thought would be the correct price of labour. Many a times a rich man would walk away with a bagful of vegetables and pay a pittance for the vegetables. Baba Amte would say nothing. In the evening the servant of the 'rich rogue', who thought he had outsmarted Baba Amte, would quietly return, pick up a small piece of vegetable and pay handsomely to compensate for the niggardliness of his master. Baba Amte, the son of a rich landlord, who drove expensive cars and wore pin stripped suits in his younger days, sat in the market everyday as a common vendor and sold vegetables grown with his labour and of his compatriots, and watched the high morality of the poor versus of the rich. This was a rewarding experience. The experiment lasted 18 months.
Later, he would be elected as the president of the Sweepers Union in Warora. To experience the degrading work of the sweepers, he would get up at 3 a.m. in the morning and clean up the town latrines between 4 a.m. to 8 a.m. He would then carry the human excreta in a wicker basket to the dumping grounds.
Baba Amte officially registered an organisation by name Maharogi Sewa Samiti (Leprosy Service Society) in 1949 in Warora. In 1951, the Society moved into a barren rocky land, three Kilometers of Warora. The place was called Anandwan. Baba Amte moved in this wilderness of the waste land along with his wife and two little children. Their initial abode were two huts, one for his family and the other for the leprosy patients, whom the Amte couple had adopted for nursing. Today, the Anandwan is an institution of it's kind, having won world recognition. It is being managed by his children and his grand children. Anandwan is a living institution of Gandhiji's ideals of serving those, who have been rejected by the society for no fault of theirs.
Below are three excerpts from the biography of Baba Amte written by Neesha Mirchandani, titled ' Wisdom Song.' Each episode mentioned hereunder has a small message for all of us.
I do hope that you would enjoy reading the excerpts. All great works have a small and unexpected beginning.