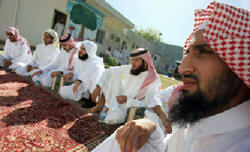 He is an expert in plotting terror strikes. His first mission was to fight the US in Afghanistan and then help the cause of jihad (holy war) worldwide. But in Guantanamo Bay detention camp, Khaled Al-Bewardi was merely No. 68.
Al-Bewardi was 21 when he first heard about al Qaeda's recruitment for Afghanistan in 2003. The jihadi videos about Palestine, Chechnya, Kashmir and Afghanistan convinced him to fight for the "oppressed Muslim". In November 2003, he lied to his parents that he was off to camp in the desert with friends, a popular pastime of young Saudis. In truth, he, like hundreds of al Qaeda operatives, left for Pakistan.
At loose ends and casting about for a cause, one of his friends suggested that they go see Osama bin Laden, founder of al Qaeda. But before his group could reach Afghanistan and bin Laden, he was arrested in Karachi by a joint team of the US Central Intelligence Agency and Pakistan Special Forces. He was taken to Afghanistan and from there to Guantanamo Bay, a US enclave in Cuba.
After six years there, he was asked to leave his cell and board an aircraft. He thought he would be killed in the air. As he covered his head with his hands and prayed, the Saudi aircraft winged its way to Riyadh.
He disembarked in Thumamah, a former desert resort half an hour's drive north of the Saudi Arabian capital. Though he did not realise it, he was at another of life's crossroads. In Thumamah, he could use an indoor swimming pool and a gym, and eat in an air-conditioned dining hall with hundreds of other al Qaeda supporters. There was kasba (meat with rice) or the Najd region speciality, hashi (baby camel). In the evenings, they would paint or play football. On weekends, their wives would join them.
After few months at Thumamah, Khaled was released, with a monthly allowance of 3,000 Saudi riyals, a car and a job. "When I look back at the dark days of my life, it seems like a miracle that I am alive today," said Khaled, the first reformed al Qaeda man to speak to the Indian media. "My life has suddenly changed for good."
Welcome to anti-Guantanamo; that's what the Saudis call Thumamah. Technically it is a prison for jihadis, but there is no solitary confinement. Inmates have lavish quarters and are free to relax, play and call home any time. The only giveaway is the curl of barbed wire atop the compound wall.
Thumamah is the base for Saudi Arabia's rehabilitation programme for former radicals and al Qaeda operatives. The centre is run by the interior ministry, and is assisted by the ministries of education and religious affairs. A number of universities and institutes help prepare the rehab programme.
Saudi Arabia has successfully rehabilitated more than 3,500 al Qaeda men, of whom 493 were suspected al Qaeda operatives who were arrested in Iraq, Afghanistan and Pakistan. Around 10 per cent of Saudi detainees have refused to participate in the programme. "Some are still consumed by hatred and corrupt ideology," said Dr Abdulrahman Al-Hadlaq, director-general, ideological security directorate (see interview). "It will take us some more time to win them over."
Al-Hadlaq said that the driving force behind al Qaeda-related terrorism is the ideology. Sometimes, he said, inmates throw tough questions like why they were permitted to wage jihad against the USSR in Afghanistan, but not the US. He said: "We tell them that jihad is admissible in Islam only if it is waged with the consent of the country's leader, the permission of both parents and if a fatwa [religious decree] is issued."
The Thumamah centre is divided into six areas; four for those who fought in Iraq and two for those from Guantanamo Bay. A day at the centre begins early, with a call to prayer. From Saturday to Thursday inmates attend daily classes. There is an exercise session before breakfast. From 10 a.m. till lunch, there are classes on religion and history, where students are engaged in debate and dialogue. Post lunch, there are classes on art therapy and anger management. After dinner, there is roll call at 9 p.m. and then lights off.
The rehab programme employs dozens of religious scholars, psychologists, psychiatrists and other specialists, who try to persuade the young men that their behaviour goes against the fundamental teachings of Islam. The six-week course covers issues such as jihad, sanctity of human life, suicide bombings, relations with non-Muslims, about people who can issue a fatwa and about takfir, the practice of declaring other Muslims to be apostates.
Dr Ali Al-Afnaan, coordinator of the rehab centre and psychologist at the interior ministry's King Fahd Security College, said it was difficult to put the inmates through art therapy. "They are not interested in art and painting," he said. "They say it is for school kids."
But by and by, the men start expressing their feelings through art. Most begin with sketches of rugged mountains, maybe a hangover from Afghanistan. Others paint in red or orange, indicating bloodshed and experiences in Guantanamo Bay. "As time passes they start sketching different objects in different colours," said Al-Afnaan. "That indicates that the person is recovering."
Khaled, who now lives with his wife and two children in Riyadh, said the rehab programme was the best thing that happened in his life. "Allah has given me a chance to correct myself," he said.
Tamir Al-Fahad was picked up from Iraq and spent three years in Guantanamo Bay. He now lives with his family in Hafar Al-Batin, 480km north of Riyadh. Talking to THE WEEK, he came across as a jovial man who held no grudge towards his American interrogators. "I want to forget the past," said Tamir. "God has given me a new life and a chance to serve my parents."
Another al Qaeda operative, Ahmed al-Shayea, exploded an oil tanker near the Jordanian embassy in Baghdad, killing scores of passersby. He was catapulted from the tanker and was burnt badly. "I repent those killings," said Ahmed.
Most of the former al Qaeda men interviewed by THE WEEK were not ideologues, but foot soldiers. Saudi officials said these ex-jihadis lacked understanding of Islam and were easily influenced by al Qaeda propaganda. Hence, the rehab programme's module on Islam and the sanctity of human life.
Another thorny issue was the return of the prodigals to their families. Prince Mohammed bin Naif bin Abdul Aziz Al-Saud, deputy minister of the interior and architect of the rehab experiment, often hosted Guantanamo inmates and their families in posh Riyadh hotels, encouraging them to bond and relax.
Once free, the kingdom pays the freed inmates a monthly allowance: SR 3,000 for those from Guantanamo Bay, and SR 2,000 for the rest. It also helps them find work and, in some cases, even a wife. There is a gift of SR 50,000 towards wedding expenses.
The rehab programme began with an act of generosity by Prince Mohammed. After 9/11, where 15 of the 19 aircraft hijackers were Saudis, the prince's father, Minister of the Interior Prince Naif bin Abdul Aziz Al-Saud, vowed that there would be no mercy for any al Qaeda operative in the kingdom. The world was looking at Saudi Arabia, because Osama bin Laden himself came from one of the richest families in the kingdom.
In July 2003, Abdul Rahman Al-Ghamdi, a hardcore al Qaeda operative, surrendered to Prince Mohammed. Instead of throwing him in a high security prison, the prince asked one of his sheikhs to live with Al-Ghamdi and ensure that he did not abscond. After living with the sheikh, who challenged his radical ideas, Al-Ghamdi repented his joining the al Qaeda. The prince was then convinced that rehab would work. So, in late 2007, the Thumamah centre was opened.
The centre had been widely praised and has had a clutch of high-profile visitors, including former British prime minister Gordon Brown. Saudi Arabia has submitted a draft of the intellectual security strategy to the council of Arab interior ministers.
Indian ambassador to Saudi Arabia, Talmiz Ahmad, said 9/11 helped Saudi reformers fight religious extremists. "The Saudi authorities have initiated awareness programmes in schools, in communities and even in mosques," said Ahmad. "But it is the rehab programme that has made a huge difference. It has given an alternative to the world to deal with terrorism."
The kingdom is building five more centres across the country. The new centres will be more spacious and comfortable with professional playgrounds and music system for each individual. Interestingly, Osama's family concern, the Saudi Binladin Group, is building these centres.
Interior ministry spokesman General Mansour Sultan Al-Turki said, "We have cracked down on terrorist cells and financing. We have killed and arrested many terrorists. But we realised that the use of force alone will not contain al Qaeda. This is the struggle of one of mind over another." He said military officers with extremist views have been fired, along with teachers and imams who gave hate speeches.
The rehab programme has had its challenges as well. At least six freed inmates escaped to Yemen and rejoined al Qaeda. One of them, Said Al-Shihri, is now a senior commander in the Arabian Peninsula. Turki said after Osama's killing, al Qaeda leadership was concerned more with establishing a broad ideological programme for the network, rather than maintaining control. "That is why it is important for us to combat the ideology of al Qaeda," he said.
And, al Qaeda has made it amply clear that it has the centre and its sponsors in its gunsights. Prince Mohammed, reportedly, has had four attempts on his life. In 2009, during the holy month of Ramzan, he granted audience to an al Qaeda man who said he wanted to surrender. The prince had a narrow escape when the man blew himself up.
I was travelling to Jeddah, with my interpreter Majid Al-Jhandi, when an assassin attempted to kill Prince Naif. Returning to hotel that night, our car was stopped and searched at one of the many checkpoints in the city. Jeddah, some 800km from Riyadh and on the coast, is Osama's hometown and he founded al Qaeda here. Between 1982 to 1992, around 20,000 men, mostly from this area and from the south, joined him in Afghanistan. Over 5,000 died fighting.
Nowhere are the contradictions of modern Saudi Arabia more evident than in Jeddah. Restaurants in the city are manned by Indian cooks and the taxis by Pakistanis. Seen from afar, soaring, sparkling, stunning modern buildings tower above the desert and camels. Amid the luxury cars and SUVs, slip the mutaween (religious police) hurrying the faithful to prayer. During the holy month, everything is closed during the day. Dusk sees the miles of freeways choked with cars headed to shopping malls that remain open until dawn.
"We are being carried backward and forward at once," said Jamal Khashoggi, former editor of Al-Watan, a Saudi daily. A good friend of Osama, he last met him in Sudan in 1995. "The kingdom officially supported the Jihad against the USSR in Afghanistan," he said. "Abdul-Aziz bin Baz, the then Grand Mufti, declared jihad and supported Osama's call. Today, we are fighting the same guys."
He said the Arab Spring disproved al Qaeda's ideology of violence and bloodshed. "All his life, Osama propagated that only violence can bring change," he said. "That ideology was defeated the day thousands of people took to Tahrir Square [in Egypt] to seek political change and freedom."
Saudi experts said that pampering by the state made the youth lazy. Saudi has around six million expat workers, nearly half the number of the kingdom's working-age population. "Those who join al Qaeda are a product of our social failures. They are raised in a welfare state," said Dr Saleh bin Sulaiman Al-Wahaibi, secretary-general of the Riyadh-based World Assembly of Muslim Youth. "We allowed them to grow up in isolation and in a pampered atmosphere until they turned to Osama in an effort to find themselves."
Yusef Abdullah Saleh Al-Rabiesh, No. 109 in Guantanamo Bay, returned to Saudi Arabia in 2006. He echoed the views of Al-Wahaibi: "Most of us who joined al Qaeda were restless youth. We had no clue about the outside world. We just wanted to go and fight the US." Some of his friends from the neighbouring province of Al Bahah, one of the kingdom's most obscure regions, brought the world to a standstill when they carried out the 9/11 terrorist attacks.
Authorities in Jeddah admit that al Qaeda is trying hard to fills its ranks with the alienated Saudi youth. But it does seem clear that the kingdom is taking the challenge seriously. As al Qaeda enlists 36 per cent of its recruits through the internet, the kingdom has hired hundreds of Islamic scholars to blog and fight online radicalisation.
On a sunny afternoon, Al-Afnaan took 20 inmates from the centre to Masjid al-Haram, the holiest shrine in Islam and the world's largest mosque, in Mecca. In the grand mosque, walking slowly across the vast square of polished marble, some sought God's blessing and refuge, while others wept loudly. Al-Afnaan said: "Who would have imagined that one day these people with such a violent past would leave the path of terrorism?" After a brief pause, he whispered: "Allahu Akbar."
---
Letter from the Managing Editor
Different ball game: Former al Qaeda operatives play volleyball at the rehabilitation centre in Saudi Arabia
Dear Reader,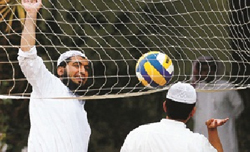 When you sleep in a house, your thoughts fly only as high as the ceiling; in the desert, they fly as high as the sky, says a Bedouin proverb. Perhaps, that is why Saudi Arabia chose the desert resort of Thumamah to set up a rehabilitation centre for citizens who were former al Qaeda operatives.
In the holy month of Ramzan, THE WEEK's Principal Correspondent Syed Nazakat visited Thumamah, making us the first Indian publication to access the rehabilitation centre. I am told that before the centre was set up, Thumamah was popular as the weekend retreat of the late Saudi ruler, King Khalid bin Abdul-Aziz Al-Saud.
In this week's cover story, we bring you exclusive information about the posh centre and the regimen followed there. A brainchild of Prince Mohammed bin Naif bin Abdul Aziz Al-Saud, deputy minister of the interior, the centre has rehabilitated more than 3,500 suspected terrorists, including 493 suspected al Qaeda men.
Sources told THE WEEK that the prince has hosted former radicals and their families in posh Riyadh hotels, encouraging them to forgive, forget and bond. The rest of the world, perhaps, might bristle at this supposed pampering of former terrorists. But, Nazakat told me that the patriarchal Saudi society expects every father to forgive his repentant son. "The traditional relationship between the state and its citizens in Saudi Arabia has no parallel in the rest of the world," Nazakat said.
Looking back, I think this is what my parents were talking about when they narrated the parable of the prodigal son at home. When the wayward son comes home broke and broken, the father is quick with a hug, a ring, a robe and a warm meal.
Dr Abdulrahman Al-Hadlaq, the director-general of Saudi Arabia's ideological security directorate, said al Qaeda isolates and indoctrinates its recruits. The same people were isolated and interrogated by the US in Guantanamo Bay. So, the Thumamah centre's core focus is to bring inmates back from isolation to sanity and into the community.
There is transformation, assures Nazakat. He said: "When I met former militant Khaled Al-Bewardi in downtown Riyadh, I kept thinking about his miraculous journey. As a young boy, he left his home in the desert, travelled thousands of miles with murder on his mind and survived the world's most notorious torture cells. Sitting before me, he was talking of peace."
It is clear that Saudi Arabia means business. The government has sacked 353 radical imams, and some 1,300 religious clergymen have been suspended. Women preachers have been engaged after it was found that around 60 per cent of al Qaeda websites were operated by women.
I can only imagine what the project has cost the Saudis, financially and emotionally. There have been at least four reported attempts on the life of Prince Mohammed. Recently, there was an attempt to kill his father, Minister of the Interior Prince Naif bin Abdul Aziz Al-Saud. Such are the perils of treading a different path.
Philip Mathew
---
The non-US style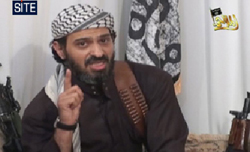 Prodigal No. 1: A former inmate of the centre, Said Al-Shihri rejoined the al Qaeda and is its senior commander in the Arabian peninsula.
The Saudi Arabian style of fighting Al Qaeda has been widely praised and many countries have initiated similar programmes.
Pakistan: The army has started a similar programme in insurgency-hit Swat valley. The interior ministry screens a video clip depicting the plight of the victims of suicide bombings.
Yemen: The new hotbed for Al Qaeda in the Arabian Peninsula, Yemen has sought Saudi help in devising a rehab programme.
Iraq: The US Marine Corps's detainee task force 134 has started a rehab programme in Baghdad.
Britain: The security and counter terrorism department has prepared a "contest strategy" with four pillars: pursue, prepare, protect and prevent.
Thailand: The government has conducted a detailed study to identify the detainees' motivation and has collected their personal information to establish patterns to be used as rehabilitation guidelines.
Singapore: The rehab programme has incorporated many psychological and religious aspects of the Saudi model.
---
You can't fight al Qaeda with force alone
Photo by Syed Nazakat
INTERVIEW/ DR ABDULRAHMAN AL-HADLAQ, DIRECTOR-GENERAL, IDEOLOGICAL SECURITY DIRECTORATE, SAUDI ARABIA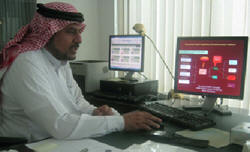 As chief of ideological security at the Saudi interior ministry, Dr Abdulrahman Al-Hadlaq leads religious scholars, psychologists and art therapists in a project to rehabilitate former al Qaeda operatives. He also advises Prince Mohammed bin Naif bin Abdul Aziz Al-Saud, deputy minister of the interior and architect of the rehab experiment.
In an exclusive interview at his Jeddah office, Al-Hadlaq told THE WEEK that four years ago, when he and his colleagues were asked to draft the rehab programme, he had fears about its viability and success. Today, the programme is widely praised and is being replicated in many countries. Excerpts from the interview:
How successful is the programme?
It has been very successful. We have rehabilitated over 3,500 suspected terrorists, including 493 suspected al Qaeda men. We are building five more rehab centres in the kingdom, each with a capacity to house 250 people. At the centre we are dealing with two questions: how to protect the youth from al Qaeda, and how to rescue the affected. We are clear that al Qaeda cannot be defeated without engaging it ideologically. Use of force against radicals is a short-term answer. It creates more radicals in the long run.
What are the key components of the programme?
The main components include psychological counselling, a religious de-radicalisation course and art therapy.
How did the rehabilitation programme start?
After the 9/11 attack, we were shocked to discover that 15 of the 19 hijackers were disgruntled Saudi youth. We started investigating and found many suspected terrorists and radicals in the country. We did not have enough prisons to keep them. And when we jailed some, they spread radical ideas among other prisoners. Then Prince Muhammad came up with the idea of the rehab camp. We started the programme in late 2007.
How difficult was it to rehabilitate detainees from Guantanamo Bay?
It was a big challenge to bring them back to normal life. They were silent, hated sunlight and wanted to be alone. Initially, they were not even ready to talk to us. After psychological counselling and art therapy, we engaged them in dialogue. We educated them about history and religion. al Qaeda always presents history as a fight between Muslims and non-Muslims... which is not true.
How are you combating the ideology of al Qaeda?
We are working on different fronts. We have sacked 353 radical imams. Some 1,300 religious clergymen have been placed on suspension. We have employed women preachers to talk to women who have adopted radical ideology. [It was found that around 60 per cent of al Qaeda websites were operated by women.] As al Qaeda uses religion to justify violence or attract recruits, we have launched a number of websites to counter Al-Qaeda's propaganda. Its message is not necessarily religious, but it is using religion to communicate it. [The Saudi Council of Senior Ulema launched an official website, www.alifta.com, for fatwas.]
Many people say that instead of punishing them, you are giving terrorists royal treatment.
I know. Some people do not see the point. Our experience teaches us that terrorism is the biggest threat to security and peace, and we will never be able to defeat it by force alone. If we do not support them, someone else will support them, and usually it will be the radicals. Terrorism is a byproduct of ideological extremism. So, rehabilitation should be a critical part of counter-terrorism.
How does al Qaeda recruit its cadets?
They isolate an individual from all external contacts, including family and friends. As the recruit begins the process of assimilation, the group identity exerts itself through the indoctrination. Most of the Arabs who joined al Qaeda are young. They were mostly single Saudis who were high school graduates and were frustrated with national and international issues.
Most recruits come from lower middle class families, but a few are from rich families, too. Many of these men believed that the west, led by the US, is engaged in a war against Islam. They felt that Muslims are obligated to defend their religion, and violence is a necessary means to achieve this end. Thirty-six per cent joined the group after seeing the website. Surprising, most of the group's websites are hosted in the west.
Is al Qaeda still active in Saudi Arabia?
We have almost defeated the group here. Our sustained campaign to discredit al Qaeda ideology has forced the group to move out. Most of them have taken refuge in Yemen, where there is political instability.
Who heads al Qaeda in the Arabian peninsula?
Nasir Abdel Karim al-Wuhayshi is al Qaeda's commander-in-chief in the Arabian peninsula. He was Osama bin Laden's secretary, and is Saudi's most wanted man.
How powerful is al Qaeda after Osama's death?
It remains a powerful terrorist group. Osama's killing gave the outfit a big blow, but over the last many years he was not controlling operations.
There are reports that the remaining inmates of Guantanamo Bay will be sent to Saudi Arabia, after the facility is closed?
Our priority is to handle and rehabilitate our citizens. But we are always ready to help our neighbours, the Yemenis. Reportedly, Yemenis make up the largest nationality among the 170 detainees left at Guantanamo Bay. We know that the US is reluctant to send Yemenis home because of the security situation there.
THE WEEK becomes the first Indian publication to access the Saudi Arabian rehabilitation camp for al Qaeda operatives