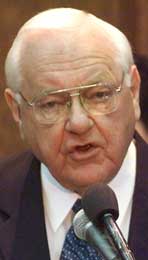 George Ryan
Washington, Jan. 12: Quoting Mahatma Gandhi's famous remark "an eye for an eye and soon the whole world is blind", George Ryan, the outgoing governor of Illinois, last night commuted the death sentences of all of 167 persons who have been waiting in prisons in the state to be transported to the electric chair or for lethal injections.
Two Gandhians, former South African President Nelson Mandela and anti-apartheid crusader Bishop Desmond Tutu, both Nobel Peace Prize-winners, helped him arrive at the decision, Ryan said in a speech in Chicago yesterday to a thunderous and standing ovation.
His visibly emotional audience at the Northwestern University Law School included at least one innocent man who had been convicted to death and pardoned by Ryan some time ago and Mexico's consul-general in Chicago who was denied consular access by the Americans to five Mexicans while Illinois prosecutors fought for death penalty for the men.
A day earlier, three men walked out of Illinois jails to freedom after Ryan, a Republican, pardoned four prisoners sentenced to death. Some of them have been in jail awaiting death for nearly 20 years.
All four were tortured with electric shocks and near-suffocation by police into confessing to murders which they had never committed and subsequent death penalty.
In addition to the four pardoned for miscarriage of justice and 167 others whose death sentences have been commuted because of doubts about their trial, 13 persons have been found to have been unfairly ordered to die and then exonerated since Illinois reintroduced death penalty in 1977.
Only 11 states in the US and the District of Columbia do not provide for the death penalty. Ryan, who is being nominated for the Nobel Peace Prize following yesterday's announcement, will trigger a huge debate in this country about capital punishment, which is already an emotive issue from coast to coast.
But the immediate impact of his announcement will be to undermine an all-round conservative agenda at home and abroad which is sought to be pushed through by President George W. Bush, who seemed invincible after Republican successes in mid-term elections here in November.
The death penalty is closely identified with Bush, who executed more people as governor of Texas than most other chief executives in states.
There were doubts about the fairness of many executions in Texas too, but Bush refused to commute even death penalties on minors in his state.
As a result of Ryan's initiative, not only liberal Democrats, but also moderate Republicans will be encouraged to challenge the White House's conservative agenda in the coming weeks and months.
Already, several Republican Senators are grumbling about a new Bush proposal for a $670 million tax cut which will top the $1.6 trillion tax cut which he campaigned for and introduced after his election in 2000.
There is also paralysis on North Korea within the administration even as sentiment against a war on Iraq without international support is growing.
But the biggest threat to the Bush agenda is in the Senate, where Democrats are threatening to block nominations of conservative judges, more or less on the lines of India's Opposition stalling Parliament.
If Ryan's announcement yesterday triggers a chain of events undermining Republican conservatives, Bush's larger-than-life image after the November poll may quickly evaporate and memories of his inconclusive election in 2000 will return.
That is the last thing the White House wants as the US is poised for war in the Gulf and coping with a variety of economic challenges at home.
Source: The Telegraph