I must skip many other experiences of the period between 1897 and 1899 and come straight to the Boer War.
I have minutely dealt with the inner struggle regarding this in my History of Satyagraha in South Africa, and I must not repeat the argument here. I invite the curious to turn to those pages. Suffice it to say that my loyalty to the British rule drove me to participation with the British in that war. I felt that, if I demanded rights as a British citizen, it was also my duty, as such, to participate in the defence of the British Empire.
Our corps was 1,100 strong, with nearly 40 leaders. During these days we had to march from twenty to twenty-five miles a day, bearing the wounded on stretchers. Amongst the wounded we had the honour of carrying soldiers like General Woodgate. The corps was disbanded after six weeks' service. Our humble work was at the moment much praised, and the Indians' prestige was enhanced.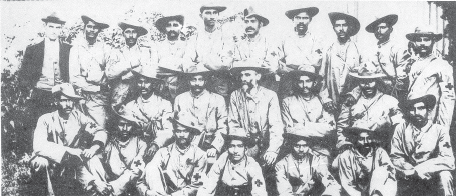 In the Uniform of a leader of the Indian Ambulance Corps