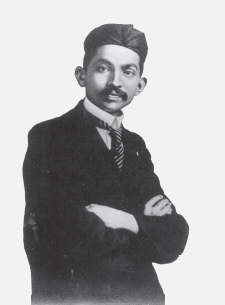 The port of Natal is Durban also known as Port Natal. Abdulla Sheth was there to receive me. As the ship arrived at the quay and I watched the people coming on board to meet their friends, I observed that Indians were not held in much respect. I could not fail to notice a sort of snobbishness about the manner in which those who knew Abdulla Sheth behaved towards him, and it stung me.
Abdulla Sheth had got used to it.
Those who looked at me did so with a certain amount of curiosity.
My dress marked me out from other Indians. I had a frock-coat and a turban, in imitation of the Bengal pugree.
On the second or third day of my arrival he took me to see the Durban court. There he introduced me to several people and seated me next to his attorney. The Magistrate kept staring at me and finally asked me to take off my turban.
This I refused to do and left the court.
So here too there was fighting in store for me.
I wrote to the press about the incident and defended the wearing of my turban in the court. The question was very much discussed in the papers, which described me as an "unwelcome visitor". Thus the incident gave me an unexpected advertisement in South Africa within a few days of my arrival there. My turban stayed with me practically until the end of my stay in South Africa.