The fate of School where Mahatma Gandhi Studied.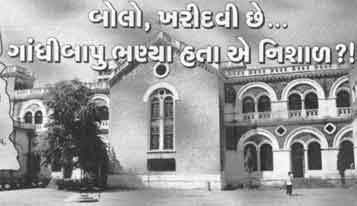 Recently in one of the leading Gujarati Magazine of this globe "Chitralekha" an article was published (Dated 9th October, 2000, issue No. 25, continuous issue no. 2633) on the condition of the school where Mahatma Gandhi studied from 1st December, 1880 till 30th November, 1887 as a student from 1st standard to 7th standard.
The school was then known as "Alfred High School" which is now called as " Mahatma Gandhi Vidyalaya" is in pitiable condition.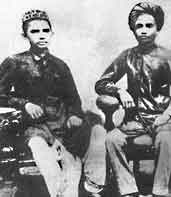 At that time the economical condition of Mahatma Gandhi was not very good but Gandhiji managed to get scholarships from "Jetpur state" and "Porbandar state"
Presently school is not having primary education facility but education available from 8th standard to 12th standard. School runs in two shifts. First shift for 8th to 10th standard and second shift from 11th to 12th standard. 1100 students are taking education.
In morning shift the strength is so high that students have to learn in "Gandhi Smriti Hall" and that too sitting on the floor.
School days' photographs of Mahatma Gandhi with his elder brother
This is not enough, the condition of this hall is the worst. It is not at all cleaned. Only 15th August and 26th January, National Festivals are celebrated here but to say with underlined that "2nd October and 31st January the days linked to the life of Mahatma Gandhiji are not at all celebrated. On these days students enjoy holidays and on next day one teacher gives a lecture on the importance of the days. (Hey Ram!)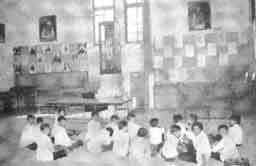 Though government has not taken any decision to sell this school or to handover it to any social organization but they have to take one of that decision because of the conditions prevailing there.
Teachers are opposing the probable decision of Government to sell this school by putting black strip on their arms. If government will not take any action to stop further negligence to this historical school they may strengthen their strike. Of course they will fight in Gandhian way i.e. Non-violence and Non-cooperation.
Students Learning in Gandhi Smriti Hall without benches (on floor)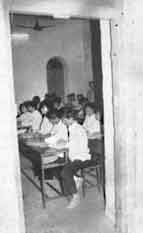 Lastly to say "There no reference of Mahatma Gandhi anywhere in this school."
(From the report published in "Chitralekha" dated 9th October, 2000).
---