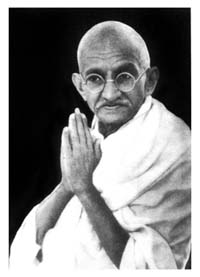 In what is probably the only kind of its effort in the world, a Wardha-based institute has been imparting training not only in Mahatma Gandhi's philosophy and ideals but also in his lifestyle to people from across the globe for the last 25 years.
Launched in 1986, the silver jubilee batch of eight-month 'Diploma Course in Gandhian Thought', run by the Institute of Gandhian Thought, will start next month, said Bharat Mahoday, who heads the institute. Read More...Soon after Mahatma Gandhi's assassination, some of his close associates, including Ramkrishna Bajaj of Wardha and Ravindra Varma of Kerala, thought of starting this course to keep Gandhi's philosophy alive. However, for some reason or the other, the idea did not materialize and several years passed before renewed efforts were made and the idea took off with the first batch in 1986, he said. ''Here, we are not focusing only on the thoughts of Gandhi but on his life style also. Along with the theory of Gandhi the practical lifestyle is also important. Therefore, we give importance for both things parallel,'' he said.
Mr Mahoday pointed out that everything related with personal social and global problem can be solved with the philosophy of Gandhi. Now, the central line of 'non-violence' is accepted by all across the world. The entire philosophy of Mahatma Gandhi is based on 'Truth, Peace and Non- violence'. In many universities, there is a separate department for 'Gandhian Thought' and many students took admission for this programme to understand Gandhi and his philosophy. There are many followers of Gandhi philosophy across the globe. Most of the followers are walking on the path of Gandhi thoughts. But they do not follow his life style in this 21 century. In today's era of modern world, living with the actual life style of Gandhi is quite impossible, he said.
Gandhi's Life, Economic thoughts, Social views, Political theory, Peace thoughts and Conflict resolution are the subjects of syllabus. Students not only understand the thoughts of Gandhi by all means but also live life Gandhi style for all period. Since last 25 years, more than 300 people from across the globe attended this course and took lessons of Gandhi thought. Among them was Adiuordo Fallaroo, a big industrialist of Maxico, and many others. The students from countries like France, Sudan, Africa, Philippines, Indonesia and other countries come here to learn Gandhian thought, Mr Mahoday added.
Courtesy: http://www.deepikaglobal.com/ENG_full.asp?catcode=ENG3&mcode=National#53440