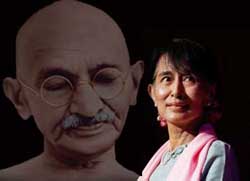 Myanmar's pro-democracy icon Aung San Suu Kyi has described Mahatma Gandhi and Jawaharlal Nehru among her "greatest sources" of influence, as she encouraged American students to read the works of India's Father of the Nation.
Suu Kyi, said Gandhi, civil rights activist Martin Luther King and her father and "political mentor" Aung San were all men of principles and she read works by them to keep herself disciplined when she was placed under house arrest by her country's military dictators.
Addressing a packed hall of students at Columbia University here yesterday, where she got a standing ovation, the 67-year-old Nobel Peace Prize winner said she has been very inspired by Gandhi's writings and strongly urged the students to read his works.
"Gandhi is somebody really phenomenal. I think you must all read his works, the more you read Gandhi, the more impressed you are by who he was and what he was," Suu Kyi said when asked who her greatest sources of influence have been in keeping her disciplined as she moved ahead toward her goals during her years as a prisoner of conscience.
"You must remember that change through non-violent means was not ever thought of before Gandhi. He was the one who started it, he was the one who decided that it is possible to bring about revolutionary change without violence," she said.
Courtesy: The Indian Express, dt. 23.09.2012