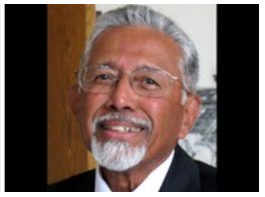 One's lineage is an important asset for aspiring politicians to succeed in the political arena in India.
Most people in politics who have worthy lineage never hesitate to boast about it. The descendants of Mahatma Gandhi have by and large lived life at their own terms. Only when the news spread that Mahatma Gandhi's great grandson has won an election in US did people realise that a descendant of Mahatma Gandhi lived in US. It is noteworthy that he never used this fact in seeking attention or approval of voters.
At the Union Square Park, in New York in US, a life size statue of Mahatma Gandhi is unveiled. On October 2, 2012, Mahatma Gandhi's 143rd birth anniversary was celebrated. Indian consulate and Bhartiya Vidya Bhavan had organised the function. Many Indians established in US had gathered there, but hardly anyone knew that one of the descendants of Mahatma Gandhi lived in US. But they were not at fault, the self effacing Shantilal Gandhi had never revealed that he was the great grandson of Mahatma Gandhi.
Dr Shantilal Gandhi, is the son of kantilal Gandhi, whose father Harilal, is Gandhiji's son. The message of peace and nonviolence is synonymous with Mahatma Gandhi, perhaps that is why Kantilal must have named his son as "Shanti". It is a well known fact that Gandhiji's son Harilal did not quite get along well with his father. However, Harilal's son Kantilal and Mahatma Gandhi shared a very warm relationship, this is evident from the letters written by Mahatma Gandhi. Mahatma had a lot of affection for his grandson.
Kantilal's son Shantilal won an assembly seat in Kensas state at the age of 72. The trend in the last US election, which returned President Barrack Obama to power for the second term, clearly indicates that the people of US voted generously for the Democratic Party. It is noteworthy that inspite of a wave of support for the democratic party, Shantilal got elected as a Republican candidate. Credit must go to his impeccable record. What is noteworthy is that no one even knew that a descendant of world famous Mahatma Gandhi was contesting the election. One can say that even the Indian media was caught napping. The fact is that the low profile Shantilal never cashed in on the image of his great grandfather. When one compares this with the Indian political scene, one realises the great moral stature of Shantilal.
The issue of unaccounted money stocked in the Swiss bank is hotly debated in India. In this context, it is noteworthy that Shantilal Gandhi, who studied at Grant Medical College, in Bombay, had no resources to fund his education in US. Based on his merit, a hospital at youngstown in Ohio offered him internship. shantilal's family could not afford the travel expenditure. Eventually, the hospital offered to give money on loan. Even after going to US, he had to struggle a lot. He met his wife Susan over there. They have three daughters.
Dr Shantilal Gandhi and Susan are active in the political arena since 1980, When Ronald Reagan was the US president. But since he worked for the hospital, he could not devote enough time for politics. In December 2011, he took retirement and became active in social work. He said, ''my only intention to participate in active politics is to help people resolve their day to day problems." Compare this with the attitude of our politicians who are ever eager to en-cash the name of Gandhi, even while dumping his principles. Alas, our politicians also had the mindset of Shantilal.
Translated by Dr Alaka Sarma, the original article appeared in the Gujarati newspaper Sandesh on 13.11.2012,
in the column, extra comment. The name of the writer is Krishnakant Unadkat