Text and photo by Ananth Krishnan
Young professor Shang, one of China's foremost scholars on the Mahatma's writings, unveiled his latest project.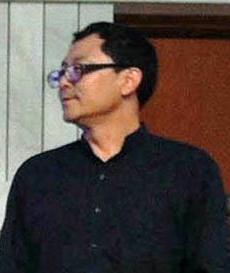 Shang Quanyu fell in love with Mahatma Gandhi when he was a young undergraduate student in Xian, the central Chinese city known for its terracotta warriors. Shang studied under an old "India hand" at the Northwest University, Peng Shu Zhi, who first introduced him to Gandhi's writings. Shang was hooked, and would go on to do his PhD on Gandhi. Today he is perhaps one of China's foremost experts on Gandhi, authoring several books on his philosophy.
Shang's latest project — one he describes as his most unique — was unveiled in Beijing in first week of August. The young professor, who also teaches at Guangdong Foreign Affairs University, has translated into Chinese a work by the retired Indian diplomat Ambassador Pascal Alan Nazareth. Gandhi's Outstanding Leadership will be published by the Commercial Press of China and released nationwide early next year.
Shang says it is the only book among the hundreds on Gandhi that focuses on his leadership, and will provide Chinese "new insights into Indian thought and Gandhi's ideals".
The publishers announced the deal with Professor Shang in a ceremony held at the Indian Embassy in Beijing last week that also saw young Chinese pay a moving tribute to Gandhi with perfect renditions of "Raghupathi Ragava Raja Ram". Ambassador to China S. Jaishankar said the book would "will help guide what I expect will be a growing constituency for India-China relations in the coming years," adding that it would contribute to on-going debates on "the importance of soft power and the limitations of hard power."
Courtesy: The Hindu, dt. 04.08.2012