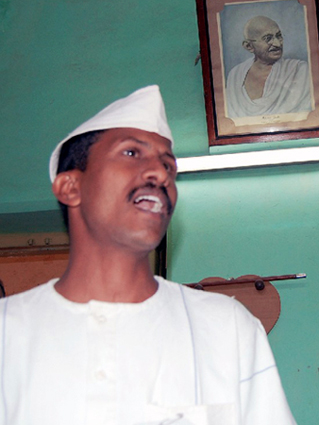 Nasik Jail inmate, Shri Laxman Gole expressing his views before Press Conference at Nasik Central Jail about Confessing his crime after reading an Autobiography of Gandhi.
Nashik: An under trial prisoner of Thane Central Jail, after reading an Autobiography of Mahatma Gandhi, has not only confessed to the crime he committed, but also written apology letters to the people whom he had harassed and threatened before.
In the Press Conference at Nashik Central Jail organised by Mumbai Sarvodaya Mandal today, a prisoner, Shri Laxman Tukaram Gole, presently lodged at Nashik Central Jail said, "After reading the Autobiography of Mahatma Gandhi – 'My Experiments with Truth', supplied by Mumbai Sarvodaya Mandal on my request; I am determined to follow Gandhi's path of truth & non-violence and wrote an application to Hon. Judge of Vikhroli Court that I am confessing my crime and do not want to waste the time of the Court. I also requested the Judge to end the proceeding of my case." The Press Conference was addressed by Dr. Rajan Welukar, Vice-Chancellor, Yashwantrao Chavan Open University, Nashik and Shri. A. C. Rane, Nashik Jail Superintendent.
Laxman Gole was a hardcore criminal and 19 cases for scuffle, threat, dispute, terrifying & beating people were filed against him by Chirag Nagar Police Station, Ghatkopar, Mumbai. He was declared free in 18 cases. He confessed his crime in last case and the judge had convicted him under;
1. u/s 384 of IPC r/w 34 and sentenced to suffer R. I. for 2 years and to pay fine of Rs. 500/-, i/d to suffer R. I. for one month.
2. u/s 506 (ii) r/w 34 of IPC and to suffer R. I. for 2 years and to pay fine of Rs. 500/- and i/d to suffer further R. I. for one month.
3. u/s 37 2 (a) r/w 135 of Bombay Police Act and is sentenced to suffer R. I. for one month and to pay fine of Rs. 50/- and i/d to suffer R. I. for 5 days.
The Hon'ble Judge, Shri M B Gosavi, Spl. Metropolitan Magistrate, Vikhroli Court considered his case sympathetically and ordered all above substantive punishment shall run concurrently thus reducing 2 years punishment to him. Bombay Sarvodaya Mandal has deposited Gole's fine of Rs. 1050/- so he will be released soon. He had spent 18 months in Thane Central Jail as an under trial.
Today Gole has become a brand ambassador of Mahatma Gandhi in Nashik Jail. He is inspiring other inmates not only to read the book, but to confess their crimes also. Mandal has received letters from five inmates of Nashik Jail who want to read Gandhi's Autobiography & other books of Mahatma.
While addressing a press conference, Dr. Rajan Welukar, Vice-Chancellor, YCMOU, Nashik said, "Our University has installed a 'Gandhian Thoughts Chair' and introduced a Diploma course in 'Gandhian Thoughts' to create awareness among youth to follow the path of truth, peace and non-violence which is a need of this hour. This has relevance at a time when some of the misguided youth take the path of violence and they are becoming more and more violent, with an increase in gun-culture."
Nashik Jail Superintendent, Shri A. C. Rane believes that Jails are not for unishment but to reform the prisoners who are disillusioned about their lives and we here guide them to become better citizen when they go out from the jail. According to Gandhi's beliefs, Jail should be a (Correction Center).
TRK Somaiya of Mumbai Sarvodaya Mandal said, "There is a steep increase in the sale of Autobiography of Mahatma Gandhi since last two years. Last year, about 2,36,000 copies of Gandhi's Autobiography in 12 Indian & 6 foreign languages were sold.
This year, more than 2,41,000 copies of the Autobiography have already been sold since last 9 months and 19 new books have been published on Gandhi in English, Marathi and Gujarati in two years. At the same time, the book is inspiring people from different walks of life to bring about a change for a better in their lives."
Sarvodaya Mandal has been organising Gandhi Peace Exams in different jails of Maharashtra since last five years and has been getting a very good response from inmates. Many inmates have been inspired by Gandhian thought after appearing for Gandhi Peace Exam. Some of the feedbacks of jail inmates who appeared for the exam are as follows:
- Anurag Kongalkar (Age 23 yrs, B.E. in Electronics)
- Ravindra Mhatre (B.Com), secured first place in Gandhi peace Exam
Somaiyaji further said that there are many inspiring stories of An Autobiography.
PSI, Mr Idris Saiyad from Gujarat who has been charge-sheeted in Bilkis-Bano's case during the Gujarat riots and presently lodged in Arthur Road Jail was also inspired by Autobiography supplied by Sarvodaya Mandal and wrote, "I am very grateful to you for sending the Autobiography of Mahatma Gandhi in response to my letter. In the past, I have received many medals and prizes during my service. But the book of Bapu I received from you is the best and most valuable gift to me and it will remain in my memory forever. I have no words to express my gratitude for you".
In a unique order, a Madurai judge ordered A Ranganathan, an MLA, whose case was being heard in his court, to visit the Gandhi Museum everyday for five days and read Mahatma Gandhi's writings including his autobiography to bring about a change in him.
Hollywood actress Jennifer Aniston has been inspired by the Autobiography and found new hope in life at a time when she there was turmoil in her life after her divorce with her husband Brad Pitt. She has been spotted wearing T-Shirts with Gandhiji's words like "I have nothing new to teach the world. Truth and Non-violence are as old as the hills." or "Defeat cannot dishearten me. It can only chasten me. I know that God will guide me. Truth is superior to man's wisdom."