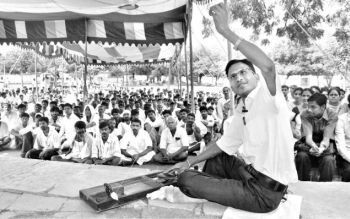 Telling tale: Laxman Tukaram Gole spins a charkha to produce yarn during a demonstration to mark Human Rights Day at Gulbarga Central Prison on Friday.
This is a story of the transformation of a man from a hardened criminal to an ambassador of Gandhian philosophy and principles.
Thirty-one-year-old Laxman Tukaram Gole spent nearly seven years in different jails in Maharashtra, facing charges ranging from assault, attempt to murder and extortion. However, after coming under Mahatma Gandhi's spell, he became an apostle of truth and non-violence. He has now taken it upon himself to transform the lives of inmates in jails across the country.
I completed my last jail term from Nasik prison after being booked under the Maharashtra Control of Organised Crime Act on extortion charges. It was there that I came across My Experiments With Truth, the autobiography of Mahatma Gandhi given by Bombay Sarvodaya Mandal, that changed the course of my life, said Mr. Gole, who was in Gulbarga to speak to the inmates of Gulbarga Central Prison and share his experiences with them.
In a chat with The Hindu, Mr. Gole said that he was drawn to the world of crime at the age of 17 when he stabbed a local goonda during a petty quarrel. That was the beginning of my journey into the world of crime. I was abandoned by my parents after several failed attempts to reform me, he added.
Change
But all this changed after I read the autobiography of Mahatma Gandhi. His honesty in accepting his follies and apologising for them moved me. I decided to follow Gandhian principles from that day, he said.
Mr. Gole said that he took an oath that he would only speak the truth from then on. The greatest challenge to my resolve came when I was produced before a judge in a court in Nasik. I confessed to my crime. The judge informed that I could be sentenced for upto seven years for the charges I faced. But I stuck to my resolve and told the judge that I wanted to serve the jail term.
After completing four years of the term, I came out and took up the task of going around prisons throughout the country and sharing my experiences with the inmates in an effort to change their lives too. Mr. Gole has already visited the high-security Tihar Jail and all jails in Maharashtra. He is visiting Karnataka for the first time.
Source: http://hindu.com/2010/12/11/stories/2010121152680300.htm