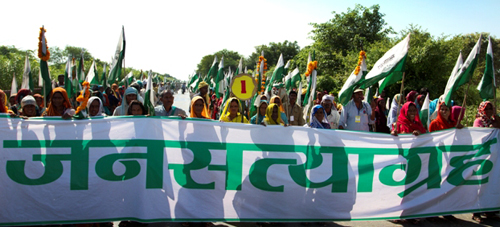 Thousands of landless farmers called off their Jan Satyagraha protest march to the national capital on October 11, after Rural Development Minister Jairam Ramesh agreed to their demand for framing a national land reforms policy.
Ramesh signed an agreement with Jan Satyagraha leader P V Rajagopal in Agra, saying the government was committed to addressing the issues of the landless poor in the country.
About 50,000 poor farmers had set out their 320-km march on October 2 from Gwalior in Madhya Pradesh, which was to reach Delhi by month-end.
"If we are unable to present a draft of the policy, then Rajagopal has every right to restart his agitation," Ramesh said, while addressing thousands of landless poor in Agra. The government is "committed" to bringing the draft of the policy within the time frame, he said.
Added Rajagopal: "If nothing happens in six months, we will assemble here in Agra and march to Delhi."
A task force will be set up under the rural development minister to take the process forward, and its first meeting will be held on October 17.
"While land reforms is a state subject under the Constitution, the rural development ministry acknowledges that a national land reforms policy announced by the Central government could have its own importance," the agreement said. "The ministry will initiate a dialogue with states immediately and put out a draft of this policy for public debate and discussion in the next four to six months and to be finalised soon thereafter," it added.
The government has also agreed to the demand for setting up fast-track land tribunals for speedy disposal of the cases pending in revenue and judicial courts. "Legal aid will be extended to all the persons belonging to socially deprived sections, whose lands are involved in litigation, particularly dalits and tribal communities," the agreement read.
For effective implementation of Forest Rights Act and Panchayats (Extension to Scheduled Areas) Acts, the government has agreed to have a detailed consultation with the states and concerned department and ministries.
Courtesy: Business Standard, dt. 12.10.2012
---