Know your Gandhi? Maharashtra Prisoners prepare for test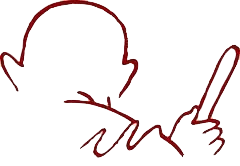 Come Oct 2, and over 1,000 prisoners and officials alike from 14 jails of Maharashtra will pay tribute to Mahatma Gandhi on his birth anniversary in a unique manner -- by taking a test on his philosophy and tenets.
Revisiting the Mahatma and his teachings is the main focus of the week-long Gandhi birth anniversary events this year, and organiser Gandhi Research Foundation hopes the participants would become better individuals and responsible citizens.
With Mumbai Sarvodaya Mandal, the Gandhi Research Foundation is conducting the Gandhi Peace and Non-Violence Examination in which about 1,081 prisoners and officials from 14 jails in the state will participate.
'Around 1,081 inmates from 14 jails will appear for examination and will also participate in reformation programmes undertaken by our organisations. Around 3,000 inmates in remaining jails will appear for the examination throughout the year,' an official of the Gandhi Research Foundation said.
Around 1,17,000 students from 1,052 schools and 147 colleges also are expected to appear for the Gandhi Peace and Non-violence Examination.
'We have been given permission by the inspector general of prisons, Maharashtra, to conduct the Gandhi Peace and Non-violence Examination and other reformation programmes in 46 jails in the state,' said the official.
'It will give the prisoners an opportunity to repent for their crimes and live as responsible citizens on completion of their sentences,' he added. The Mahatma's birthday is also celebrated as the International Non-Violence Day.
Reformation programmes such as meditation, yoga, AIDS control, adult education will be held in the jails and films like 'Do Aankhen Barah Haath', 'Bapu Ne Kaha Thaa' and 'Lage Raho Munnabhai' will be screened for about 15,000 jail inmates throughout the year.
The National Service Scheme (NSS) wing of the Mumbai University, along with Mumbai Sarvodaya Mandal, has organised essay-writing, poetry, poster and slogan-writing competitions related to Gandhi's teachings. Nearly 80,000 students are expected to participate.
Mumbai Sarvodaya Mandal has also appealed to 250 universities in the country to organise various programmes dedicated to Gandhi's teachings.
'Most universities have responded in the affirmative. Maharashtra Governor (K. Sankaranarayanan) and Chief Minister (Prithviraj Chavan) have written letters to 23 universities in the state and 3,00,000 students to implement programmes suggested by Mumbai Sarvodaya Mandal,' the official said.
Source: Indo-Asian News Service (IANS) dt. 30.09.2011