Gandhi's 'Harijan' to be collector's item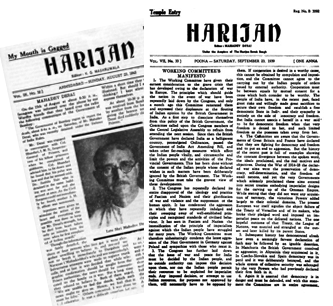 Mahatma Gandhi's newspaper 'Harijan' will be printed again. This time as collector's edition. This ambitious project has been taken up by Navjivan Trust to reprint the newspaper exactly as it was originally printed.
The new collector's edition will have 20 volumes, 19 volumes of Newspaper plus one with detailed index. "The work of printing these volumes is in progress. We are using the special parchment paper and silk," says Vivek Desai, managing trustee of Navjivan.
Desai says it is a little difficult to print this newspaper. The trust will use a high resolution scanner to make it printable in same format and size. The work of preparing an index is time-taking, but the trust plans to make the edition available next year.
Before this Navjivan Trust published Hind Swaraj as a collector's edition which was a huge success. Navjivan is the legal heir of Gandhi's writings. Though after the copyright on Gandhi's writings expired, this trust remains the most authentic owner of Gandhian literature.
The newspaper 'Harijan' was started by Mahatma Gandhi in 1933. In first issue of Harijan, Gandhi wrote a note to readers saying, "If you will diligently study Harijan, it will equip you for the delicate task. Will you become a fellow-worker in this movement of liberating over forty million human beings from an intolerable yoke of purifying Hinduism?"
The note says many things about the weekly newspaper. Gandhi also tells the reader that the expanses of running the newspaper will come only from subscriptions. Gandhi wrote, "You will note that no advertisements are being taken for the upkeep of the paper. It has to depend solely upon the subscriptions money."
In the last paragraph of the note, Gandhi wrote, "I am an irrepressible optimist." He had no quarrel with opponents and he concluded with the words of wisdom, "If Harijan stands for truth and if the reformers have patience, the opponents of today will be the reformers of tomorrow."

Courtesy: http://timesofindia.indiatimes.com/city/ahmedabad/Gandhis-Harijan-to-be-collectors-item/articleshow/9263309.cms