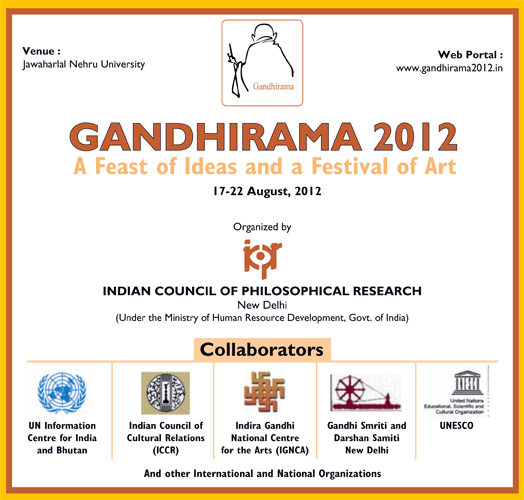 Indian Council of Philosophical Research in collaboration with other sister institutions is organizing an international event, called Gandhirama-2012 from 17th to 22nd August 2012 at Jawaharlal Nehru University, New Delhi, India.
Gandhirama is designed to be a kaleidoscope that reflects the panorama of the multivariate contributions of Mahatma Gandhi – his person, philosophy and practices.
Gandhirama 2012 is an occasion reflect on the many sided splendour and brilliance of Gandhi's thought, which we hope would provide the context for a truly transformational experience. The conference would also enable us to examine and explore in a critical and constructive manner the message of the Mahatma in his person and philosophy, which could profoundly influence the future of humankind. As we struggle to cope with a plethora of problems arising from the fast moving pace of physical science and technology and the relative lack of progress in human science, Gandhian way could be a bridge to connect the "outer" and "inner" worlds, as it were. Gandhirama is an occasion not merely to remember Gandhi but a concerted effort to arouse worldwide, enthusiastic interest, popular and intellectual, in the person and philosophy of Gandhiji for consummate good of humankind. It is an honest attempt to depict Gandhi as an icon to inspire and not an idol to worship.
Gandhirama 2012 would be more than an academic discussion of Gandhian thought. The goal is transformation of the person in the Gandhian way for common good. Attenborough's film on Gandhi did more than any book on Gandhi to appreciate Gandhi and depict him as a kind of role model to many people around the world. A clinical psychologist observed after seeing the movie that it was a transformational experience for him. It is hoped that likewise Gandhirama would prove to be a collective transformational experience as well as a source of informed discussion of Gandhi, his person and philosophy.
Gandhirama 2012 is the inaugural event of a series of such events to follow across the globe. It is our hope that this event will be repeated in other parts of the world annually and that we would have the finale when we celebrate Gandhiji's 150th birth anniversary in 2019. In this gigantic task, we solicit your cooperation and invite your participation.
For further details contact:
Gandhirama 2012 Secretariat, Darshan Bhawan, 36, Tughlakabad Institutional Area, M. B. Road, New Delhi- 110 062
Website:www.gandhirama2012.in, E-mail: info@gandhirama2012.in Tel. Nos. 91-11-29901538, 29901537.
Online Registration is available on http://www.gandhirama2012.in/registration.html
Note: Free Hospitality (Food, transportation, conference kit etc. shall be available to all the registered delegates.