1,200 students marched for Peace & Communal Harmony and took the pledge to work for Peace & Integration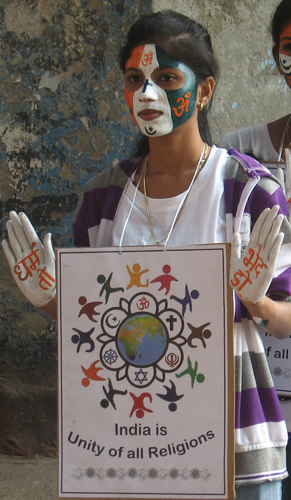 1,200 NSS students from 53 colleges of Mumbai & SNDT University along with the Gandhian activists, social workers, peace-loving citizens marched for Peace and Communal Harmony from Azad Maidan to Hutatma Chowk on 30th January. The Peace March was jointly organized by Bombay Sarvodaya Mandal and Gandhi Smarak Nidhi to commemorate 64rd Death Anniversary of Mahatma Gandhi.
Volunteers wearing masks and carrying banners & play-cards with the slogans on Communal Harmony, "Hands not for hurting, but for help", "India is Unity of all religions." etc. were the main attractions of the peace rally.
The purpose of the rally was to inculcate the spirit of peace and communal harmony as Gandhi had visualized amongst people from different walks of life which is the need of the hour to lead our country towards progress. This is more relevant and necessary in today's atmosphere where hatred, disharmony, violence and intolerance are spreading at an alarming rate and moral values are on a decline.
At Hutatma Chowk, an Oath was taken by 1,200 students with peace-loving citizens to oppose all forms of communalism, casteism, chauvinism; never to resort to violence and intolerance and to work for promoting harmony, goodwill and peace in the world.
1200 students marched for peace and communal harmony to observe 64th Gandhi death anniversary

1200 students marched for peace and communal harmony to observe 64th Gandhi death anniversary

NSS students took the pledge to work for peace & communal harmony

FORE MORE PHOTOGRAPHS, KINDLY VISIT: http://www.facebook.com/mkgnadhisarvodaya