BUILDING PEACE & NON-VIOLENCE BRICK BY BRICK...
6 lakh students and 1,081 jail birds will participate in a Week long variety of programmes from October 2
to mark the 142nd birth anniversary of Mahatma Gandhi and International Non-violence Day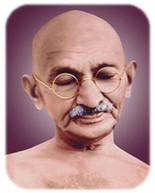 Even after his assassination in 1948, Mahatma Gandhi's teachings and values regarding non-violence are an inspiration to ordinary people as well as to those who went on to become eminent personalities and world leaders. Recently, Anna Hazare resorted to a non-violent satyagrah by going on a fast and drew the world's attention to the effectiveness of Gandhiji's mode of protest, carried out in the largest democracy in the world.
In 2007, United Nations General Assembly declared 2nd October, birth anniversary of Mahatma Gandhi as an International Non-violence Day. About 180 countries supported the resolution. In this context, Gandhiji's 142nd birth anniversary and International Non-violence Day on October 2, will mark the beginning of Gandhi Birth Anniversary Week, the world over. Programmes dedicated to peace and non-violence would be held throughout the country, and in Canada and Australia, as well as in Honolulu and Houston in the United States of America. Several universities in India will also hold similar programmes.
Increasing violence in the society has made it pertinent for the youth to be introduced to Gandhiji's teachings of honesty, non-violence, conflict resolution and peace. Keeping this in mind, every year Mumbai Sarvodaya Mandal and Gandhi Research Foundation organise a Gandhi Peace and Non-violence Examination, in schools and colleges in Maharashtra. This year around 1,17,000 students from 1052 schools and 147 colleges are expected to appear for the examination.
Gandhiji had tremendous faith in change of heart. While inculcating Gandhi's ideology among the youth, it is essential to help bring about a change of heart amongst the jail inmates, if responsible citizens are to be created. Those who commit crimes in a moment of fury are neglected by the society and they are forced to enter the world of crime.
Mumbai Sarvodaya Mandal and Gandhi Research Foundation have been given permission by the inspector general of prisons, Maharashtra to conduct the Gandhi Peace and Non-violence examination & other reformation programmes in 46 jails in Maharashtra, so as to give the prisoners an opportunity to repent for their crimes and live as responsible citizens on completion of their sentences.
During Gandhi Jayanti Week, around 1,081 prisoners as well as jail officials from 14 jails of Maharashtra will appear for the examination. Around 3,000 jail inmates in remaining jails will appear for Gandhi Peace Examination throughout the year.
Reformation programmes such as meditation, yoga, AIDS control, adult education are held in the jails and films like Do Aankhen Barah Haath, Bapu Ne kaha thaa and Lage Raho Munnabhai are screened for about 15,000 jail inmates throughout the year.
The NSS Wing of Mumbai University along with Mumbai Sarvodaya Mandal has organised essay writing competition, poetry, poster competition and slogan writing competition etc., related to Gandhiji's teachings and nearly 80,000 students are expected to participate in the competitions. Mumbai Sarvodaya Mandal has organised a special programme of Mumbai University for NSS students. Students will take the pledge to work for peace and non-violence at the end of the programme.
Students of Business & Management studies will attend a daylong seminar at the Convocation Hall on October 2. Around 240 management students of ITM, Kharghar will read Gandhiji's autobiography and will learn & get practical experience of marketing through the sell 2,400 copies of Gandhi's autobiography.
An International Youth Peace Festival is being held jointly by Yuvsatta and Mumbai Sarvodaya Mandal in Chandigarh from September 27 to October 2, in which around 2,000 students from 25 countries are participating. Another one lakh students will take an oath adhering to non-violence and peace.
Mumbai Sarvodaya Mandal has appealed to 250 universities in the country to organise various programmes dedicated to Gandhiji's teachings truth, peace and non-violence. Most universities have responded in the affirmative. Maharashtra Governor and Chief Minister have written letter to 23 universities in the state and three lakh students to implement programmes suggested by Mumbai Sarvodaya Mandal.
Gandhiji's teachings are becoming popular by the day the world over. Exhibitions of Gandhiji's photos, 1000 lights for peace and peace rallies have been organised by MacMaster University in Canada; Gandhi Centre in Australia; Gandhi Institute for Peace and Gandhi Library, Honolulu and Calgary University, Houston.