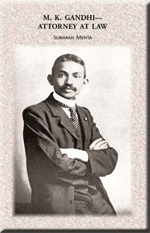 M. K. GANDHI - ATTORNEY AT LAW
By :
Subhash Mehta
First Published :
2015
Price :
Rs. 200/-
Published by :
Navajivan Publishing House, Ahmedabad, Gujarat, India.
---
About the Book:
For Gandhi 'truth' is an attribute of soul and it is also heart and soul of Lawyer's profession. Author of this book has put before us the ethical aspects of the said profession, so that nobility of the profession could be retained and maintained. While we celebrate Centenary of Mahatma Gandhi's return from Africa, this book helps us to understand the true nature of Lawyer's profession and judicial system. The subject matter of this book is clearly linked with the essential needs and aspirations of the common man, as well as the problems faced in today's world.
---
About the Author:
Subhash Mehta, M.A. L.L.B. actively participated in Sarvodaya activities & youth programmes of the Sarvodaya Institutions throughout his adolescence & adult life.