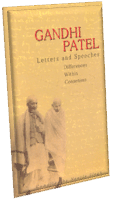 GANDHI PATEL Letters and Speeches
Differences within Consensus
: Compiled by Neerja Singh
Published by :
National Book Trust, India
Pages :
204
Price :
Rs. 60/-
---
About the Book:
The relationship between Sardar Vallabhbhai Patel and Mahatma Gandhi has often been portrayed as a complex one. Through a balanced and historically relevant perspective, this collection of some of their significant correspondences, not only brings out the mutual respect each had for the other but also the differences between the two on various matters of policies and strategies. In doing so, the volume throws light on some of the most momentous periods in the history of India freedom struggle.
---
About Authors...
Neerja Singh teaches History at Satyawati College (Evening), University of Delhi. She did her Ph.D. on "The Right and the Right Wing Politics in Congress: 1934-1949", from the Centre for Historical Studies, Jawaharlal Nehru University, New Delhi. She has also been studying and lecturing on Patel, particularly on his relationship with other national leaders.