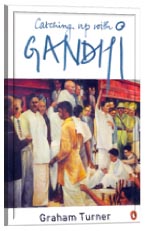 Catching Up With Gandhi
: Written by Graham Turner
Published by :
Penguin Group, Penguin Books India Pvt. Ltd., 11 Community Centre,
Panchasheel Park, New Delhi 110 017, India.
Pages :
329
Price :
- Rs. 350/-
---
'Catching up with GANDHI' is a gentle and generous retelling of Gandhi's life, his dealings with people, the political decisions and the 'experiments with truth'. The book is a good start for beginners, find interesting & easily accessible for youth.
About Author...
Graham Turner has been for many years a nationally known, award-winning journalist in Britain. He was the BBC's first economics correspondent and worked for the Sunday Telegraph, the observer and the Daily Mail. His other books include a biography of Queen Elizabeth based on intimate conversations with many of her family and friends.