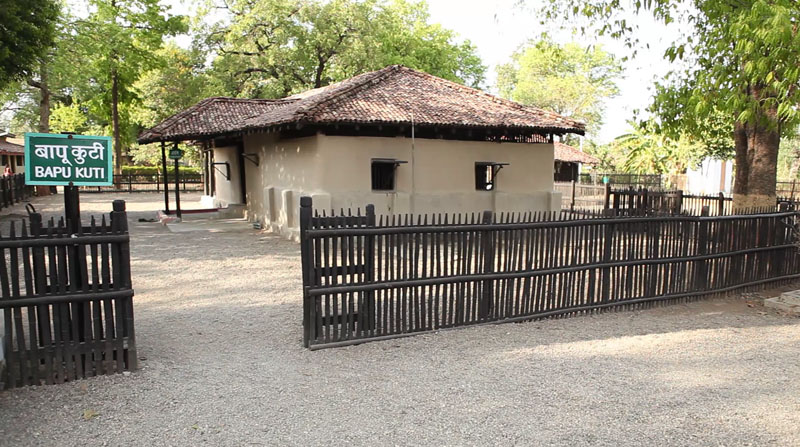 Sevagram Ashram, Wardha
Sevagram, located near Nagpur (Maharashtra State), was Gandhiji's headquarters and place for experiments from 1934 to 1940. He lived as the villagers lived i.e. without electricity and telephone and built the Ashram house himself with materials available locally. One can see Bapu's kitchen in this house.
The first hut built in the ashram was Adi Nivas around which was a prayer ground.
One can see Ba Kuti and Bapu Kuti, residences of Kasturba and Gandhiji respectively.
Akhiri Nivas (last residence):
Gandhiji lived here for a few days before leaving for Noakhali and never returned. The weighing machine he used is preserved here.
Parchure Kuti:
Shri Parchure was a Sanskrit scholar and a construction worker who was afflicted with leprosy. Gandhiji took care of him in his hut.
Mahadev Kuti:
Residence of Mahadev Desai, Gandhiji's secretary
Kishor Nivas:
The only house to be built with bricks and cement it was the residence of Kishorlal Mashruwala, a close associate of Gandhiji's and part-time editor of the Harijan Weekly.
Rustom Bhavan :
This was a four-room guesthouse.
The Government established a photo exhibition on Gandhiji in 1991 and built Yatri Nivas in 1982 for the benefit of visitors and for holding training camps and conferences. There is also a Nai Talim Parisar - an adjoining area for basic education premises.
How to get there : Sevagram is 75 km from Nagpur station and one can go from Delhi by train to Nagpur and then on to Sevagram. Road transport to Sevagram is easily available from Nagpur Station.
From Mumbai one can go by train up to Wardha a distance of 750 km. Sevagram is 8 km from Wardha Station and road transport is easily available.
Best time to visit : October to March.
Address: Sevagram Ashram Pratishthan, Sevagram, Wardha-442102, Maharashtra, India. | Tel.: +91-7152-284753-4
For more information, please visit:
www.mkgandhi.org/sevagram/default.htm | www.gandhiashramsevagram.org
Virtual Tour of Sevagram Ashram