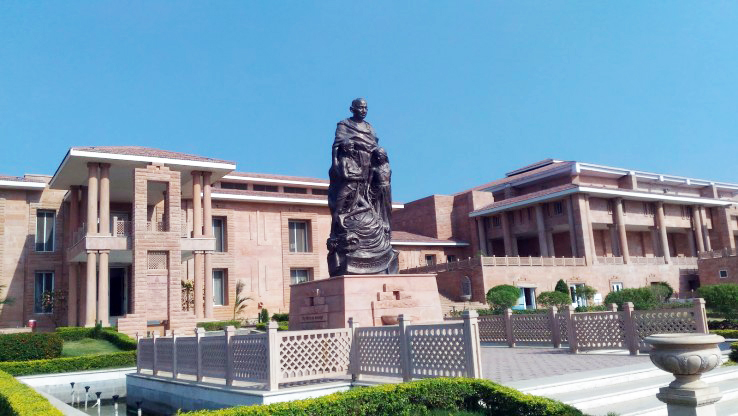 Gandhi Teerth, Jalgaon
'Gandhi Teerth', is an international centre for Gandhian study, research and dialogue, initiated and promoted by Gandhi Research Foundation. Its core objective is to preserve and promote for posterity the Gandhian ideology and legacy.
Gandhi Teerth is a magnificent 65,000 sq. ft. sustainable structure located at Jain Hills, Jalgaon, Maharashtra, India. The premise is beautifully landscaped with sprawling lawns and is adjoined by mango orchards with mounded sit-outs and serene walk-ways. The entire green complex nestles between 300 acres of lush, afforested hilly terrain, and is noise-free and pollution-free. Residential facilities for researchers and guests are housed within the complex.
The edifice is built under green norms to last for many centuries.
---
Gandhi Teerth comprises the following facilities:
'Khoj Gandhiji Ki' museum: A thematic, state-of-art, interactive multimedia museum conceived and commissioned to disseminate Gandhiji's life-lessons and ideology, as also the saga of Indian independence movement.
GIRI (Gandhi International Research Institute): The academic arm of GRF which will award diplomas, degrees and facilitate research in Gandhian studies.
GRF Think Tank : A consortium of scholars who will deliberate on contemporary issues. It can independently study and opine on public policy matters such as peace, ahimsa etc.
Gandhiana : Collection, classification, indexing and synopsizing of publications by and on Gandhiji.
Gandhi Archives : Preservation of archival publications related to Gandhiji and the Indian Freedom Struggle.
Gandhinomics : Rural Development/Outreach Programmes based on Gandhian ideology.
GRF has so far collected from authentic sources 7140 books, 4368 periodicals (Harijan, Navjeevan, Young India etc.), 4019 captioned photographs, 75 films, 150 audio recordings of Gandhiji's speeches, and 114 philately stamps.
---
Silent features of Gandhi Teerth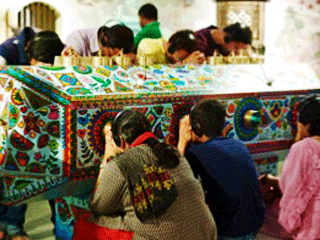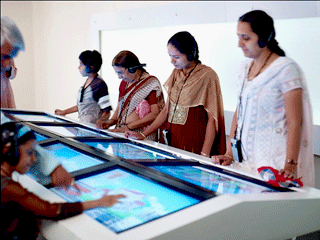 GRF was inaugurated on 25th March 2012 by the President of India, Pratibha Devisingh Patil.
A magnificent 81,000 sq. ft sustainable structure scientifically built in Jodhpur stone, under green norms, to last for centuries.
Situated on the lush green, noise and pollution free afforested terrain of Jain Hills. Set within a beautifully landscaped garden, sprawling lawns and mango orchards.
Winner of the GRIHA Adarsh Award and Artists in Concrete Awards Asia Fest 2013-14.
The largest audio guided air-conditioned museum in the world based on the life and works of Mahatma Gandhi.
Audio available in three languages-Marathi, Hindi and English.
Museum has more than 30 sections equipped with Touch screen, Bioscope, Digital Books, 3-D Mapping and Animation, amalgamating different modern technologies.
It takes 2 hours 30 minutes to visit the Museum. Guides are available with each group.
A hyper realistic statue of Gandhiji, spinning in real time, can be seen by the visitors.
An Auditorium and an Amphitheatre, both accommodating 250 persons and equipped with all modern facilities.
Four spacious meeting/class rooms.
Souvenir Shop equipped with books, Khadi Clothes, Gift Items and handmade items.
Library and Archives for researchers and preservation.
A Food court for refreshments.
Comfortable guest house facility for outstation visitors.
Added attraction of Boating, Horse, Camel and Bullock cart rides.
Battery operated Car, Photographers and lockers available.
Situated 8 kms from Jalgaon railway station, 55 kms from Ajanta Caves, 140 kms from Ellora Caves and 160 kms from Aurangabad airport.
---
Opening hours: 9:00 am to 6:00 pm (Tue-Sun)
How to reach: The Museum is located at Jalgaon, Maharashtra which is well connected by road and rail to the rest of India. The nearest domestic airport is Aurangabad (160 kms/99 miles). Nearest international airport is Mumbai. Road distance between Mumbai and Jalgaon is approx. 415 kms/257 miles.
For more information, kindly contact:
Gandhi Research Foundation
Gandhi Teerth, Jain Hills PO Box 118,
Jalgaon 425 001 (Maharashtra), India.
Tel. No.: +91 (0)257-2264 803, +91 (0)257-2260 033 | E-mail: info@gandhifoundation.net
Official Website: www.gandhifoundation.net