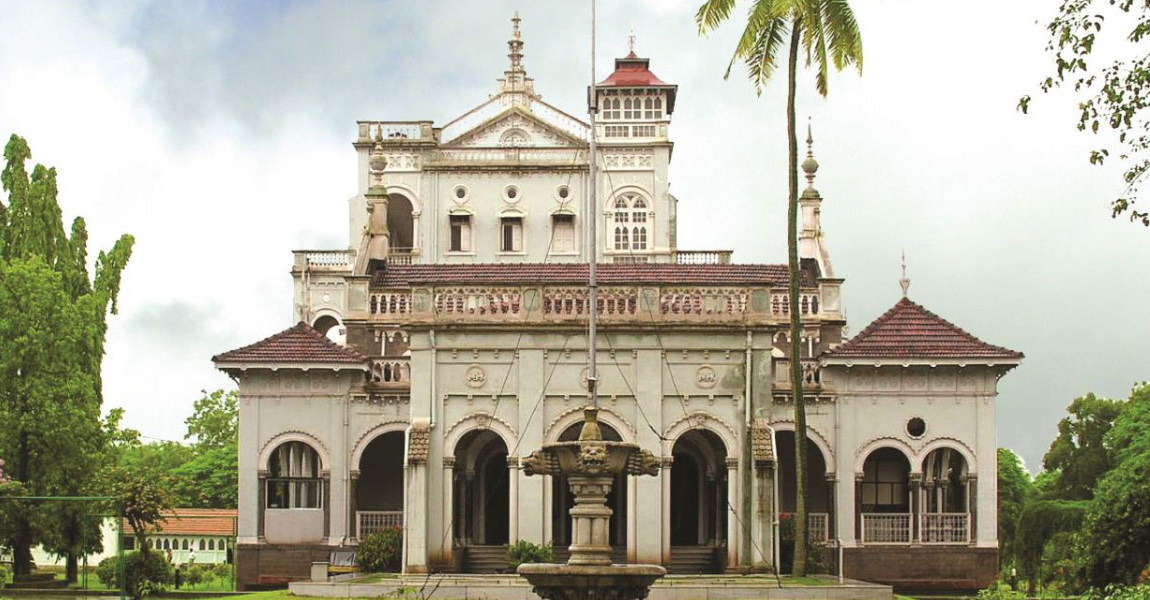 Aga Khan Palace, Pune
This palace was built in 1892 by Imam Sultan Muhammad Shah Agakhan III. He was elected as the President of the League of Nations in 1938 and was well renowned in the field of politics and sports. The palace was later donated to India by Aga Khan IV in 1969 as a mark of respect to Gandhiji and his philosophy.
---
Historical importance:
The Agakhan Palace Pune is a national monument of India's freedom movement. Following the launch of Quit India movement in 1942, Gandhiji, his wife Kasturba, his secretary Mahadevbhai Desai were interned at the palace from August 9, 1942 to May 6, 1944. Mahadevbhai and Kasturba passed away while in captivity at the Agakhan palace and their samadhis are located in the campus. Situated near the River Mula, the palace is a simple memorial to Gandhi and his life.
---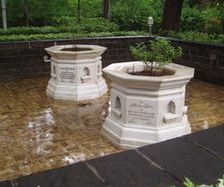 Samadhi of Mahadevbhai and Kasturba Gandhi
Tourist attraction:
The palace has developed into a national and international place of pilgrimage with over a lakh of visitors every year who come to pay homage to the samadhis here. The palace is surrounded by a sprawling garden. The famous movie 'Gandhi' was shot here.
---
Gandhi Memorial Society :
The management of the museum, samadhis and the palace campus was transferred to the Gandhi Memorial society in 1980. The society has been trying to make this place a living memorial to Ba (Kasturba Gandhi) and Bapu (Mahatma Gandhi) by organizing a number of activities throughout the year. Following public functions are held here:
Martyr's day - 30th January
Mahashivratri - Kasturba's death anniversary celebrated as Mother's day
Independence day - 15th August
Republic day - 26th January
Bapu's birth anniversary and Ba and Bapu awards ceremony - 2nd October
---
Present activities:
» Picture gallery and museum- Pictures depicting important events in the freedomstruggle and things used by Mahatma Gandhi during his stay in the palace like utensils, clothes and his personal effects (towel, mala, chappals). Also, room in which Kasturba Gandhi took her last breath, the dinning table where they used to have their meals, the room in which Gandhi ji used to give science lessons to his grand daughter, letter written by Gandhiji on the death of his dear secretary, are some of the attractions in the palace.
» Mahurika nursery school
» Kasturba Mahila Khadi Gramodyog Vidyala
» Library and documentation centre
» Skill and vocational training
» UNCHR Refugee Guidance centre
» Nashabandi Parishad work
» Friends of Gandhi Museum
» ICDS training of Aganwadi workers, supervisors and CDPQS
A special cenotaph honours Kasturba who died here. A shop attached sells khadi or cotton handloomed garments and textiles.
---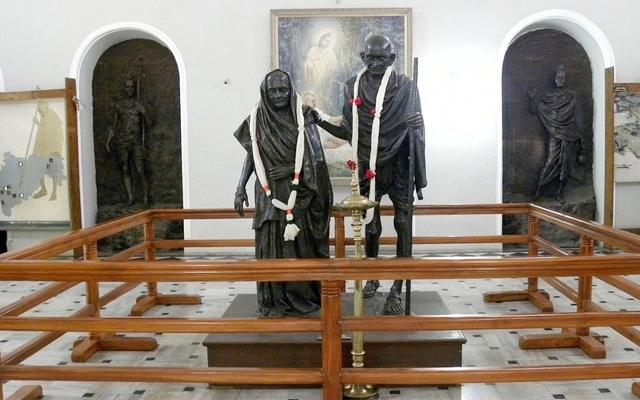 When to visit: The place is open on all working days except national holidays.
Best season: October to March.
How to get there: Pune is at a distance of 200 km from Mumbai and is well connected by train and air from within and beyond the state of Maharashtra. There are regular Maharashtra State Road Transport Corporation (MSRTC) buses as well as private buses to Pune. For transport within Pune auto rickshaws, buses and taxis are easily available.
Timings: 9 am to 6 pm (Lunch break: 12.30 pm to 1:30 pm)
Entry fee: Rs. 5/- for adults and Rs. 2/- for children
Location: Aga khan Palace, Nagar road, beyond Fitzgerald Bridge, Phone no:+91 20 26880250 | Email: gandhi_memorial@vsnl.net