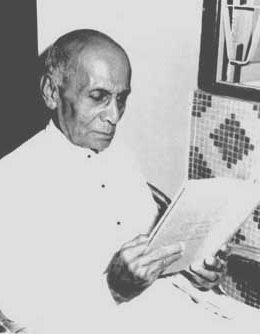 Acharya Dada Dharmadhikari was a freedom fighter, thinker, writer, philosopher and a teacher but above all, he was also a great human being who lived a life of principles.
Shankar Trimbak Dharmadhikari was born on June 18, 1899 at Multapi in Madhya Pradesh in a family known for its learning. His father T. D. Dharmadhikari was a district and sessions judge who was held in high esteem in the social circles for his integrity and expertise in law. Shankar studied at the Indore Christian College and later at Morris College in Nagpur but left his studies half way to join the freedom struggle under Mahatma Gandhi. He married Damayantibai early in life. He found a perfect companion in her since she not only shared his life but also his vision and thinking.
He came to be commonly addressed as "Acharya Dada Dharmadhikari' by young and old alike. Well-known for his oratory skills, Dada's lectures used to draw people from all walks of life. In 1977, at a seminar in Mount Abu in Rajasthan, some foreign delegates remarked, "He does not speak like an Indian but as a world citizen." A keen participant in all the freedom movements launched by Gandhi, Dada had to endure imprisonment many a times during freedom struggle.
An ardent Gandhian, he lectured on Gandhian concepts of truth, love and non-violence. Dada understood and related to Gandhi like no other. He propagated Gandhian thinking as the solution to the contemporary social and political problems. He was also closely associated with Jayprakash Narayan and Vinoba Bhave. Dada also participated in Vinobaji's Bhoodan (land-gift) Movement.
Dada was also a thinker, philospher and a proficient writer. His philosophy centred around human development. Dada's life-long passions were human relationship, enlightenment of youth, women and total transformation of society. He wanted women to be at the same pedestal with men. He exhorted them to rise against injustice and be independent. He wanted women and young men to participate in total revolution so as to bring about a revolution in all walks of life. In his book Beyond Gender Games: The Fellowship of Women and Men, he has brought the complex issue of man-woman relationship to the fore. His talks on various issues were compiled in the book The Philosophy of Total Revolution.
Many who were touched by his life wished to see a book on him. It was then they thought "Why not approach Dada himself?" After a lot of persuasion, Dada agreed and spoke about about his birthplace, family, friends, studies and so on in an informal chat. This was in 1984. But before he could complete, he passed away. Later, this record of his life, his writings, his interviews and other available notes on him were collected and published in the form of his 'autobiography' titled Manishi ki Snehgatha in 1994, nine years after his death.
Dada was also very active in public life but never accepted any coveted office, honorary degrees or recognition. He even rejected titles like Padma Bhushan. He wanted to remain an 'unlabelled common man'. He always underplayed himself saying he had not achieved anything worth mentioning. He had also refused to go abroad.
A remarkable proof of his simplicity, humility and adherence to the values he preached can be seen in the notes on the last page of his diary which said, "Wherever I may die, I should be cremated at a place near it. There should not be any processions or speeches at the cremation. Things such as sandalwood, camphor, ghee, etc. should not be applied on the body. There should be neither any memorial nor any condolence meeting."
This great son of India passed away on December 1, 1985 at Paunar Ashram in the Wardha district of Maharashtra. But his message - love all, learn to trust and do wrong to none, still lives on.
Courtesy: One India One People Magazine.